They used to make things in South Bend. Men, alchemists, melted and manipulated the earth's elements. They were gods. They labored under furnaces as big as freight trains to bend, cut, melt, and twist great sheets of steel into the new machines that drove the American Century. Today, the inheritors of that tradition live up the road and toil under the tutelage of Coach Harry Hiestand. For he makes linemen.
In this installment of our critically-acclaimed (in Finland) series, Know Thyself, Know Thy Enemy, we take a look at that most-important of position groups, the offensive line. The Irish will face some of the nation's best O-lines in 2016, with Stanford and USC the best of bunch.
For The Irish: LT Mike McGlinchey (Sr.), 6'7″, 310 lbs.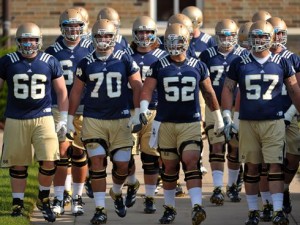 If you need to know why Harry Hiestand might just be the most important coach at Notre Dame, you need look no further than the talent he has recruited and developed, year after year. Despite an aura of "inexperience" about the group, the nation's ranking services are high, very high, on Hiestand's charges. In McGlinchey and Quenton Nelson, Notre Dame has the best left-side in college football. Across the front, though, there is talent and depth in spades.
McGlinchey is athletic enough to play tight end, which explains his ability to transition so effectively from right tackle, his natural position, to left tackle this season. After redshirting his freshman year, McGlinchey played in all 13 games his sophomore and junior season and comes into 2016 with 14 starts under his belt. He is also on the Outland Trophy watch list. O-linemen are graded on blocking. They get a "plus" when they complete their blocking assignment and a "minus" when they don't. McGlinchey is Notre Dame's highest-graded lineman. For what it's worth, ProFootballFocus has Notre Dame as their number one unit in the country for 2016, on the heels of a 2015 season in which they graded out +61.6 in run blocking and +18.6 in pass blocking.
For The Enemy: RT Zach Banner, USC (Sr.) 6'9″, 345 lbs.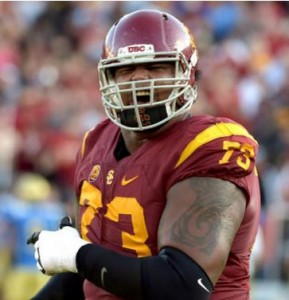 My favorite stat about Zach Banner is not that he lost forty pounds since he started playing college football but that he is, at his lightest, twice as heavy as Adoree Jackson.
Banner's a monster among monsters. Like WWE greats of old, when it was called the WWF, he is surprisingly agile for his size, with the ability to crash and pull with the best of them. With 27 starts under his belt, Banner has the experience and the physical attributes to back up his preseason accolades. He was a five-star recruit out of high school and the only knock against him is the potential he has to pack on the pounds. NFL talent runs in his blood as well. His father, Lincoln Kennedy, played eleven seasons in the bigs.
Latest posts by Bayou Irish
(see all)