Corey Holmes is the forgotten receiver on the Notre Dame depth chart. In this post, I'm going to make the case for why the redshirt sophomore should play – and hypothesize about what may be keeping him from the field.
Holmes was a four-star prospect from St. Thomas Aquinas (Fla.), who was considered both "highly overlooked" and "underrated" by professional talent evaluators coming out of high school. Holmes' best attributes were his length, his speed and his route running ability. The then-senior was most often compared to T.J. Jones, a former Notre Dame captain who now plays on Sundays for the Detroit Lions.
Here are Holmes senior season highlights:
In the highlights, you see a receiver who is fast, who can get open and who does a fairly decent job of blocking downfield on running plays.
Holmes did enough to impress Notre Dame's coaches in his freshman year, seeing the field for a few plays versus Rice & Michigan in 2014. But he's sat since; the only opportunity for us to see him play has been during the 2015 Blue-Gold game.
COREY HOLMES CATCHES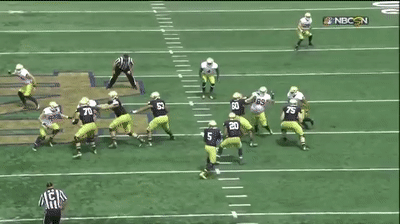 In his best catch of the afternoon, Holmes (bottom of the screen) appears to stumble off the line. Travis Allen (#25), a walk-on DB, tries to check him and misses. Holmes finds a seam between the linebacker (Te'von Coney) and the deep safety (Nick Watkins). Everett Golson's pass is high, but Holmes snags it without a problem. On his high school highlight reel, Holmes is listed as having a 39 inch vertical. That's more than 5 inches higher that Will Fuller's result at the NFL Combine recently.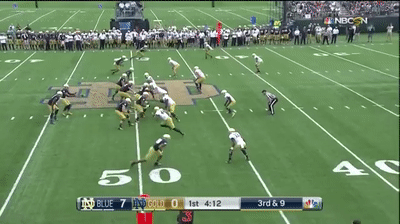 Two different catches here. On the left, Holmes (top of the screen) runs a slight comeback route and then leaps over an unprepared defender (Allen again) to make the first down grab. It's a nice catch in traffic. On the right, it's pretty straightfoward. Watkins is giving Holmes (bottom of the screen) a cushion, so Holmes runs six yards and stops. Malik Zaire's pass is waiting for him. Holmes absorbs the hit without bobbling the ball.
COREY HOLMES GETS OPEN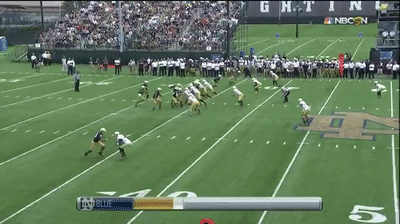 Holmes (very top of the screen) beats his man – cornerback Jesse Bongiovi, who gives him a slight shove – and gets past deep safety Matthias Farley. It's hard to say if Farley would had let him get over the top if Zaire's pass wasn't looking like a wounded duck. But Holmes was open if Zaire could have stepped into the pass instead of throwing off his back foot.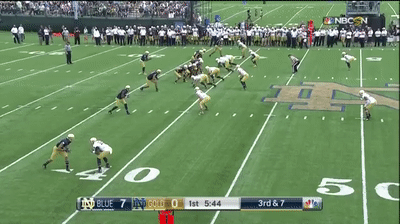 On a designed pass play, Zaire ends up feeling the pocket collapsing and scampers for a first down. Holmes – at the bottom of your screen – beats Devin Butler with a nice outside fake to inside pivot. My only criticism is that Holmes doesn't get himself downfield enough to assist with blocking after Zaire continues to run – although Torii Hunter Jr. (#16 – middle of screen) appears to do the same.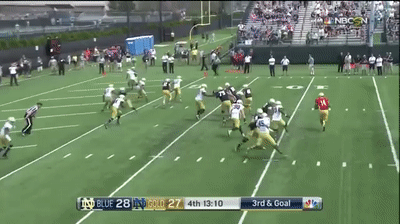 Holmes can first be seen in the back of the end zone. He follows DeShone Kizer, who is on a rollout, and manages to get himself open a bit – despite some light holding by Nick Watkins. Unfortunately, Kizer throws the pass out of bounds. Holmes' athletic attempt isn't enough.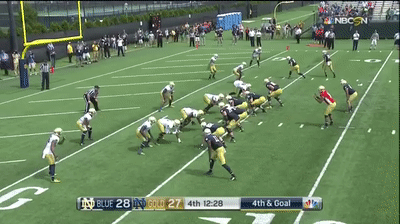 Holmes (lined up at the top of your screen), gets inside position against Nick Watkins. The throw is low; it's difficult to tell from the broadcast if Holmes had an opportunity to get his hands under or if the ball skipped right when it got near him. Regardless, it's an incomplete pass on what could have been six.
AREAS OF CONCERN
True freshman Equanimeous St. Brown passed Holmes on the depth chart last year. As Will Fuller's backups, neither were expected to see a lot of playing time. Brown managed 15 snaps; Holmes never got one. When St. Brown was hurt during the Wake Forest game, Holmes was listed as Fuller's backup for the Boston College, Stanford and Ohio State games.
While Holmes was considered a diamond in the rough coming out of high school, St. Brown was even more highly regarded.
Holmes was rated most favorably by ESPN, which had him the 94th player overall in the 2014 class. He was #200 on Scout's list and #224 on Rivals. St. Brown, meanwhile, was ranked #63 in ESPN's 2015 class, #144 at Rivals and #207 at Scout.
St. Brown may be higher on the depth chart because he's about four inches taller than Holmes and – if high school statistics can be believed – runs as fast as Holmes. (St. Brown was listed as running a 4.44 40-yard dash, while Holmes allegedly ran a 4.0 40.)
But it may be other attributes. Holmes' biggest issues, it appears, is his physicality and his situational awareness. Chris Brown is a similar height and weight to Holmes, and he was an excellent downfield blocker. It can be done by a "lanky" receiver type. These clips would give any coach pause.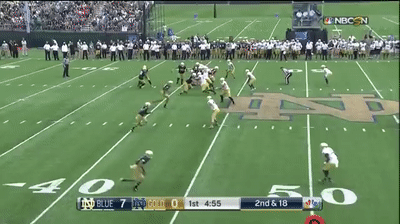 Holmes (bottom of your screen) does a poor job of keeping Butler (#12) out of the play. Butler pretty easily pushes Holmes aside. Although the play was, for all intents and purposes, over before Holmes lost his block, the wide receiver would not have known that. Losing contain on your primary responsibility is problematic.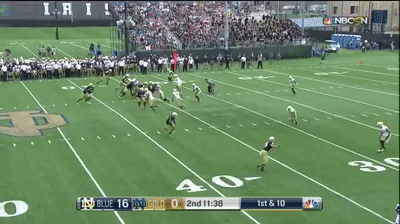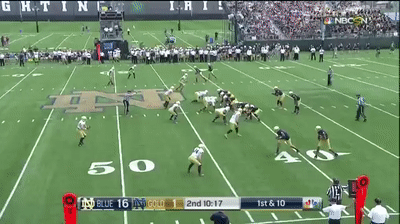 There's two different plays here. On the left, Holmes (bottom of your screen) makes a late block on the defender – who has sniffed out the play and gotten a good break on Amir Carlisle. The pass is too high – perhaps Carlisle should have walked more toward the sideline so that Holmes' block could have been more effective. Then he'd have to beat just one defender before the end zone.
On the right, Holmes – playing the slot (top of your screen) – makes contact with his defender but doesn't keep engaged with him. Meanwhile, a second defender has run right past him to grab Carlisle for a two yard loss. Zaire's pass is low, causing Carlisle to almost kneel down to get the pass. But Holmes' block leaves much to be desired.
CONCLUSION
With St. Brown completely healed from a late-season shoulder separation, I'd expect he'll see the majority of the first team reps at the X (Fuller's old position) initially. I'd imagine Holmes will see reps with the second team with freshman Kevin Stepherson and others nipping at Holmes' heels. I'm obviously not privy to practices, so I don't know why Holmes isn't seeing the field. But I know this is his make-or-break year. If he can't find the field this year – whether through talent or through opportunity due to injury of another player – I expect the situation to only worsen for him in 2017.
I'm hopeful Holmes will have a break out junior season, just as Will Fuller emerged on the scene during his sophomore season in a very unexpected (but fantastic!) way.
Latest posts by andrewwinn
(see all)