When the Buckeyes and the Irish square off on New Year's Day in the Fiesta Bowl, two very similar offenses will take the field. Both teams finished in the middle of the College Football Playoff Top Ten, with OSU at six and Notre Dame at seven. Both teams have evolved away from their roots as i-formation, run the damn ball first-style offenses. The purpose of this piece is to let you decide how similar they really are.
Coming into the Fiesta Bowl, the Buckeyes finished the season 11-1, with their only loss coming against Michigan State on November 21. Their head coach, Urban Meyer, is in his fourth season at the head of the program and is 49-4, with a National Championship and B1G Championship last year. He is one of four former Irish assistants who made the move to the state that's round at both ends and "hi" in the middle. Running backs' coach Tony Alford, offensive coordinator/O-line coach Ed Warinner, and tight ends'/fullbacks' coach Tim Hinton all coached under Brian Kelly and are more than capable of stealing a sign or cue. For what it's worth, Coach Kelly thinks Ohio State is the best team in the country.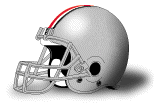 TALE OF THE TAPE: Notre Dame's scoring offense ranked thirty-first in the country, putting up 34.8 points per game. Ohio State's ranked twenty-eighth, with 35.0 points per game. Notre Dame scored 417 total points. Ohio State, 420. Notre Dame scored 54 touchdowns to Ohio State's 57 and 15 field goals to OSU's 7. Sagarin ranks OSU's schedule at 62nd overall. Notre Dame's is 24th.
Ohio State's rushing offense finished twelfth in the country, with 2,903 yards on 513 attempts. ND's rushing offense finished at twenty-five, with 2,582 yards on 448 attempts. OSU averaged 5.66 yards per carry and 241.92 yards per game. ND averaged 5.76 yards per carry and 215.17 yards per game. Ohio State ran 42.75 times per game to Notre Dame's 37.33 for 35 rushing TD's versus 27.
Something to consider, too, is that Notre Dame's O-line averages 6'5.5″ and 313 pounds, while  the seventeen D-linemen on OSU's roster average 6'3.7″ and 279.411 pounds.
The Irish enjoyed much more success, comparatively, through the air. Notre Dame is ranked 37th in the country for passing offense with 3,076 yards, 256.3 yards per game, 8.9 yards per pass attempt, 23 TD's, 9 INT's and a 63.0 completion percentage. OSU is 103rd nationally, with 2,244 passing yards, 187.0 yards per game, 7.6 yards per pass attempt, 18 TD's, 8 INT's, and a 62.9 completion percentage.
Notre Dame is a clear winner, if that's the right word, in the down-field threat comparison, too. Notre Dame finished the season with 120 pass plays of more than 10 yards yard, 45 of more than 20 yards, 24 of more than 30 yards, 11 of more than 40 yards, 5 of more than 50 yards, 3 of more than 60 yards, and 2 of more than 70 yards. Ohio State had only 95 of more than 10 yards and no plays of more than 60 yards.
On third-down conversions, ND was ranked 37th in the country with a conversion percentage of 42.86 on 63 conversions on 147 attempts. Ohio State converted 60 of 154 attempts for a conversion percentage of 38.96 and a 71-ranking.
On fourth-down, Ohio State finished 52nd nationally with a conversion percentage of 55.56 with 10 conversions on 18 attempts. Notre Dame was 45th in the country with a 57.14 conversion percentage with 4 conversions on 7 attempts.
In the red zone, the teams are very similar. They are tied for 90th in the nation, having each scored forty times on fifty trips inside the twenty. Ohio State has a red zone TD-percentage of 66 with 33 touchdowns, while Notre Dame's is 56.00 with 28. ND's field goal percentage is 24.00 with 12; Ohio State's is 14.00 with 7.
ODDS AND SODS: Notre Dame appears to have the advantage in the "off-the-field" stuff, with generally positive notes, e.g. the return of Jarron Jones, whereas Ohio State is dealing with the loss of senior DT, Adolphus Washington, to a solicitation charge and the continued fallout from Ezekiel Elliott's "performance" against Michigan State. When Lane Kiffin riffs on you, you're in a special place.
OSU could also be experiencing a bit of disappointment. While the Irish should be disappointed but happy to be in a premier bowl game, one of the "big six," the Buckeyes are probably indifferent. They're the defending champs, after all, and may view a non-playoff game as a delay to their NFL draft preparations.
The Vegas line as of December 27th at 1:00 p.m. CST was ND +6.5 and Vegas knows things, but there's plenty of time for the line to change.
All things considered, I have to give the Irish the advantage, at least offense-to-offense.
Latest posts by Bayou Irish
(see all)