Last Friday, Notre Dame received the expected news that KeiVarae Russell was back with the Irish. Yesterday, another one of the Frozen Five had their fate become a little clearer:
Ishaq Williams has been formally re-admitted to Notre Dame by the Committee on Readmission.

— Pete Sampson (@PeteSampson_) June 1, 2015
The important thing to note here is that Ishaq is back only academically at this point. His status on the football team is up in the air.
The reason? It's one that we've mentioned several times this offseason. Scholarship numbers are tight and a fifth year isn't a guaranteed thing, even for a former five-star recruit (NB: Russell is entering his senior season. ND unofficially guarantees scholarships for athletes for four years, thus why Russell is a definite while Ishaq is up in the air).
As of right now, without Ishaq, the Irish stand at 86 scholarships, one more than the 85 maximum. Of those 86, Chase Hounshell is the likely fifth year candidate to be first on the chopping block. Hounshell swapped to TE from DE, but based on reports from spring ball, it doesn't appear that he has done enough to solidify his spot on the roster.
The remaining fifth years (minus Williams and transfer Avery Sebastian) are the following:
Amir Carlisle
Nick Martin
Jarrett Grace
Joe Schmidt
Matthias Farley
Yeah, have fun figuring out which one of those gents that you'd like to ask to not come back.
Of course, the one eternal truth of the Notre Dame offseason is that strange things happen to this roster. Already we've had Everett Golson deciding to transfer, but we've also seen incoming freshman Bo Wallace announcing, seemingly out of nowhere, that he wouldn't be attending Notre Dame.
There's a reason why Brian Kelly has mostly dodged the question about what to do about the roster until the zero hour. He's been through this dance too many times and knows all too well that he may not even have to make such a tough decision by the time fall camp breaks.
So for now, the Irish and Ishaq will remain in a holding pattern. Remain buckled, Irish fans, the offseason ain't over yet.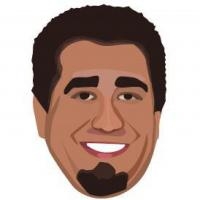 Latest posts by Ryan Ritter
(see all)