The public and constant evaluation of the head coach of Notre Dame football might as well stand with death and taxes in the certainties of life. It comes with the territory and, in this day and age, provides easy fodder for spilling internet ink on blogs, forums, and social media.
However, just because this fruit hangs low doesn't mean it isn't worth taking a look at. Looking at a coach's progress and/or expectations is a solid health check for the program in both its current state and the future. The higher the standard, the better the program.
Since the time that I started my Notre Dame obsession, the Ty Willingham years when I walked onto campus in 2003 season (yeah, I didn't even get to enjoy 2002…), to now, I have learned that there are two absolutes to this little exercise:
A "national title or bust" attitude is an impossible standard, especially in this current era where parity is at an all-time high. Even in this playoff era, expecting to always be one of the top four teams in all of college football is a little unrealistic. This should always be the ultimate goal for any serious program like Notre Dame, but if this is your annual expectation, expect to be disappointed almost every year.
Mediocrity is unacceptable. Every Notre Dame fan will agree with that statement. Every Notre Dame fan will have their own definition for just what the hell mediocrity is.
In my opinion, the definition of mediocrity in regards to ND football is the #1 argument among ND fans. It's also the #1 thing that has college football fans around the nation ready and willing to laugh at us once they claim to see or hear an Irish fan proudly setting an absurdly high bar, usually with a specific win number attached to it, as their definition of mediocrity.
And, to be honest, using the number of wins as the sole measuring stick every year seems to be a fool's errand. Schedules and their difficulty are fluid entities and thus so should the number of wins expected on an annual basis. Further, who the wins and losses come against should matter. For example, beating LSU in the Music City Bowl was a fantastic win, but that doesn't wash away just how bad the Northwestern loss was.
Or, to put it another way, think of every argument that we've use against other teams and their inflated win totals when debating rankings. It cuts both ways.
Rankings, as volatile as they can be, are likely a better standard to judge a team and its coach. In fact, when Bill Connelly of SBNation did his preview for Notre Dame, he did so with the title of "Notre Dame football has no excuse to finish outside the top 20" instead of assigning a win total. Basically, it's asking the audience to judge Notre Dame's potential as one of the 20 best teams in college football, rather than making the assumption that a 9 or 10 win season gets ND there.
And with practically every starter returning for Notre Dame in 2015, Bill's standard of a top 20 finish might actually be something of a low bar for the Irish to clear. Sure, Malik Zaire, with only one start at quarterback under his belt, is a huge wildcard for this team, but then again, so was Everett Golson in 2012. Now, I'm not saying Zaire should go 12-0 (after all, he doesn't have a veteran like Tommy Rees as a safety net), but I am saying that I expect that Brian Kelly is true to his "next man in" mantra and can recruit quarterbacks in the same caliber as Golson and results shouldn't see a major drop off.
Even with a rookie QB, the offense has an embarrassment of riches in their two-deep. Will Fuller should have himself a whale of a season with opposing defenses needing to worry about the new dynamic that Zaire brings to the run game with Tarean Folston and Greg Bryant in the backfield. The offensive line brings back 67 career starts and, thankfully, zero need to thrust a true freshman into the two-deep this season.
While the offense has plenty of weapons, Brian Van Gorder's defense is the bigger question mark. It's almost impossible to judge that unit's performance last season, an absolute collapse that followed incredible early success. That collapse, however, was triggered by practically everyone getting injured. The injury situation became so comical/sad, that no one would've been surprised if Kelly pulled someone from the stands to play LB last season just to get a warm body in there. Still, even with all the questions surrounding the defense, with the return of KeiVarae Russell to the secondary, coupled with the 2014 starters coming back healthy, you would think that situation will never get to the lows that it saw last season.
So with all that being said, for me, judging Kelly boils down to two huge factors:
Can he coach Zaire to succeed with all of the weapons that surround him? We've seen Kelly's success in recruiting at the skill positions; in fact, 2014 was "who will step up at WR?" and then Fuller happened. So now it's time to see if he can translate that success to the all-important QB position. After all, Kelly had the Cincinnati offense running so well in his final season there that it looked like a fern could slide in a QB with no dropoff. But was that thanks to then assistant Jeff Quinn or has Kelly found the right guy in Mike Sanford?
Has Kelly found the proper replacement for Bob Diaco in Brian VanGorder? There's certainly plenty of talent on the defensive side on the ball to be solid and with practically every starter having a year of experience in VanGorder's system, there should be marked improvement. If there isn't, I'm personally going to be a little concerned that Kelly without Diaco could equal defensive nightmares down the road.
And as far as the results in the rankings, here's how I see it and where I see Kelly's future in each scenario:
Unranked: Something went terribly, terribly wrong. Unless the 2014 injury bug returned, Kelly's seat is going to get quite warm going into 2016.
Top 25: Fully within this team's potential; however, if the Irish struggle to just hang on to their ranking, Kelly should certainly shoulder some criticism and his seat should be "Jack Swabrick 'accidentally' left the seat warmer on" level of warmth.
Top 20: I think Bill's earlier headline is a decent standard, but on the low end of what this team could and should achieve. The only way I see Kelly's seat getting warm in this situation if is something disastrous like "lost to UMass/Temple" is something that we have to say about the season.
Top 15: Personally, this is what I want to see. It's aggressive for a new QB, but the Irish simply return too much talent for me to sleep on them (especially as a homer). Another reason for this: the Irish lost an absurd amount of fumbles last season and that seems to correct itself quite quickly the following year. I expect turnovers to be down across the board, but even in a worst case scenario, dumb luck alone should improve it. As for Kelly? Everything remains status quo.
Top 10: High end of my personal expectations. A lot has to go right for this to happen, but this team has a lot of "trendy sleeper pick for playoff contention that really isn't a sleeper" going on in my mind right now. Kelly's 2012 season now looks more like a realistic occurrence than a one-time outlier.
Playoffs: This isn't even on my radar this season. Personally, I'll be thrilled if the Irish find their way into the conversation. If they somehow make it, sign him to the Weis deal (kidding).
National Title: Actually sign him to the Weis deal.
Yes, you can bookmark this post and throw it in my face later if it looks like I start to backtrack if things go south. Simply put, I have high expectations for the Irish this season despite new QB and questionable defense concerns and it ain't just because I'm looking at everything with blue and gold glasses. This team is absurdly talented and I cannot wait to wait them kick off against Texas in September.
Agree? Disagree? Let me know how you see it.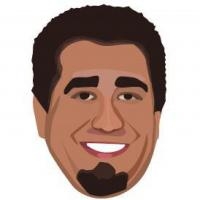 Latest posts by Ryan Ritter
(see all)