Years
2008: Notre Dame vs. Syracuse, L 23-24
2014: Notre Dame @ Syracuse, W 31-15
In 2008, Notre Dame managed to win the turnover battle (+2), out-gained Syracuse, and had Jimmy freakin' Clausen at QB, yet still managed to lose against a team that had just fired their coach. There's a reason One Foot Down named this the worst loss of the Weis era. It all but glued Weis' rear to the hot seat in 2009.
Last night, Notre Dame lost the turnover battle in a big way (-4) and completely re-shuffled their offensive line, yet somehow managed to both out-gain and comfortably beat Syracuse. I don't believe that the 2014 version of Syracuse will end up being too much better than their 2008 counterparts, but regardless, it's quite a jump from 6 years ago.
We are now saying "man, we won, but we need to play better" instead of "no wonder we lost, look how we played".
QBs
Jameis Winston v Everett Golson tonight: pic.twitter.com/W4a5Yv1Js0

— Irish Tightness (@IrishTightness) September 28, 2014
Add to that, Golson had 2 fumbles and Winston had 1 with 21 rushing yards to Winston's -3.
Even with more turnovers, Golson still managed to put up just as positive a performance as Winston did when all was said and done. An argument could be made that Winston did this against better competition, but the fact that Golson had a wrose game taking care of the ball and still pulled that off is rather impressive regardless of the competition. Also, consider that FSU had a rusher with 126 rushing yards helping Winston out while the Irish had 140 total when you remove Golson's yards.
Firings
Charlie Weis
Brady Hoke (it's going to happen)
Weis' firing has been a looooooooong time coming as he's led Kansas into a black hole. While Hoke hasn't been canned yet, the writing is certainly on the wall; however, while Michigan doesn't want to do their first mid-season firing in their history, they likely have all the ammo to do so after Hoke put an injured and concussed Shane Morris back in the game.
There is simply no excuse for that. I don't care if Morris was waving off a sub or the third-stringer couldn't find his helmet. You eat a timeout and protect the kid under your care. Everyone on the sideline from Hoke, the assistants, and the training staff should be held accountable for putting Morris' health in danger.
Opponents Showing Flaws
Stanford
Florida State
The two toughest Irish opponents for the month of October each had their own unique set of issues.
Stanford needed a late 4th quarter TD (under 5 minutes) to hold off Washington. Their once vaunted rushing attack sits at 70th in the nation while their red zone scoring rate sits at 121st in the nation. They still have the best defense in the nation to this point in the season, but needless to say, holes are starting to show for them.
Florida State has now had two consecutive weeks of dodging bullets. Last week, they could have the excuse of not having Jameis Winston. This week, Winston (as shown above) did a poor job of taking care of the ball and put Florida State in a hole early. Even the Seminoles defense, considered one of the best in the nation, gave up two 75 yard TD drives to start the game.
While both of these games are far from easy, they are certainly looking more winnable than they did before the season started.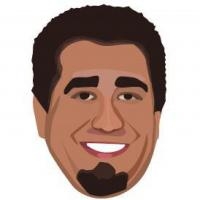 Latest posts by Ryan Ritter
(see all)