Those that follow me on Twitter during the offseason quickly become aware of two other major interests in my life outside of football: the WWE and the Texas Rangers. The former is a guilty pleasure that I probably care way too much about (as evidence by the fact I like writing many, many words about it) and the other has always been a part of my life.
Think of all those stories you hear about Notre Dame fans growing up and knowing nothing but the love of Our Lady's University and a closet full of blue and gold. That's me and Rangers baseball.
People my age have fuzzy, fond memories of the final years of the Lou Holtz era. I had the end of Nolan Ryan's career. You'd often find me out in the backyard trying to pitch my own no-hitter and become his successor.
I've been a Rangers fan for nearly three decades. My ND fandom/obsession is only just now starting it's second. What I've witnessed as a fan of both has been remarkably similar.
If history starts for both teams when I became a fan (late 80's for Rangers, 2003 for ND), both would be filled with absolutely terrible results with the occasional glimmer of hope. The two Weis BCS bowl appearances were the 1996, 1998, and 1999 AL West Division Championships. The postseason games of those years might as well have been a mirror of each other as the Rangers only managed one win against the Yankees in all three divisional series. The hope of victory went right out the window once the games commenced.
I'm not sure I have a Notre Dame comparison for the 2010 and 2011 World Series appearance. In 2010, Rangers fans were simply happy to be there. Sure it sucked that the Giants handed us our lunch, but we got to see the Rangers in the World Series before we died–something none of us thought possible. 2011, and in particular game 6, is the lowest of the absolute lows of my sports fandom that has no comparison.
Not even the ass-kicking the Irish received at the hands of Alabama in the BCS Championship could compare. Oh, sure, it was terrible and definitely ranks quite high on the "ow my balls" terrible sports moments in my life; however, there was no doubt what the result of that disaster was going to be mid-way through the first half (and probably sooner to be honest). The Rangers were one strike away from winning the World Series.
Twice.
I held a bottle of champagne in my hand when Nelson Cruz managed to turn a routine fly ball into a David Freese triple. To be more accurate, I was practically uncorking the thing once I saw the ball go off the bat. I went from pacing anxiously around the living room to falling to my knees in despair once the ball sailed past Cruz's glove.
Despair gave way to hope when Josh Hamilton blasted a two-run homerun in the top of the 10th. The Cardinals were again on the ropes and managed to scrap a run together. I still felt confident though, surely they wouldn't tie it again. Again, down to their last strike, future Ranger Lance Berkman did just that. An inning later, Freese sent a Mark Lowe pitch sailing over the wall to win the game.
That's devastation you can't put into words. My wife tried to console me, as a lifelong Cubs fan, she knew heartbreak, but her comparison of the Steve Bartman game six to this just wasn't even close.
And to any Cubs fan reading this getting pissed, yeah, I know that game sucked and the Cubs have been terrible for longer than the Rangers entire existence. However, after Moises Alou threw his fit in front of one his own fans, the Cubs were still up 3-0 and at best there would have only been two outs (and this is in the NLCS by the way). Prior walked Luis Castillo, the man that hit the foul ball. Alex Gonzalez managed to screw up a double play ball that should have ended the inning (seriously, how do Cubs fans not give him the Bartman or even Buckner treatment?). The Cubs still had a two run lead at that point until Derek Lee chased Mark Prior out of the game with a game-tying double then the floodgates opened.
That entire inning was just a gigantic collapse. The Rangers managed to bounce back from their horrible moment of outfield play only to watch a championship slip away once again.
All this is a very long way of fast-forwarding to 2014 and the current situation the Rangers find themselves in now. Slated as playoff contender, it looked like this squad a decent chance to try a make another run at things. If you remember, in a previous Roundup, things weren't going so well. The injury situation hasn't gotten much better as the Rangers seem to be going through players like toilet paper at this point.
A team that once had the best record in the American League, still leads the league in shutouts, and has the AL batting leader (Adrian Beltre) now has the worst record in baseball. Just as I thought the Rangers found rock bottom Wednesday night when the Astros completed a sweep against ace Yu Darvish, the Rangers game right back and got demolished by the Angels 15-6. 13 of those runs were scored in three innings and all given up by starter Colby Lewis–a new Rangers record in futility.
Ron Washington lit up the team last night in a 30-minute closed door furry in response. I fired up Hell's Kitchen from the DVR instead of watching another disaster.
I've never witnessed a team get so ravished by injuries. I've never seen a team sink so low, so hard, so fast. I've never seen a group of "fans" react so illogically to it as well, Notre Dame fans included. For this group of idiots, the blame for this lies squarely at the feet of GM John Daniels who "forced out" figurehead Nolan Ryan from the front office.
They know this is true because their gut tells them so and a retired local sports writer loves pushing that narrative every chance he gets.
All I can hope is that this snake-bitten season is one gigantic sacrifice for 2014 ND football glory. Between the disaster on the field and dealing with terrible fans, I've hit rock bottom myself in baseball fandom. This was a lot easier to take when the Rangers just flat-out sucked to begin with.
The offseason can't end soon enough.
The Roundup
Here's a football reason for why this offseason needs to end. Johnny Football-watch has reached critical mass.
Jesus, take the wheel. Or the scooter equivalent.
Add Southern Cal to the list of teams tinkering with their uniform. It's a small change, but a change nonetheless.
ND has a new sideline reporter. The 411 you are looking for is here.
As we've mentioned before, Ricky Watters is back in school. ESPN's Matt Fortuna has done a great piece on Ricky's mission to complete his degree.
And now your moment of Nix… Mark Richt has lost control of the Star Wars universe and it has invaded his campus. No, seriously, one of his players made a Star Wars tribute and he makes a cameo and does nothing (h/t: WithLeather):
[youtube id="nsJU5Ebka44″]
The Booze
When sports disaster strikes, there is only one choice. Bourbon. Lots of bourbon.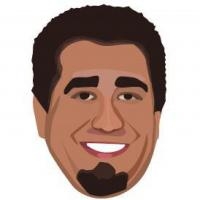 Latest posts by Ryan Ritter
(see all)