Some times, I wonder why I love sports so much. They can cause me such pain and even in, what has been a quiet offseason to this point, Notre Dame football still finds a way to troll me.
The Dallas Cowboys kicked off their OTAs this week and our best defender, middle linebacker, Sean Lee, when down with what will likely be a season ending ACL tear. So where's the Notre Dame connection? First round draft pick, Zack Martin, was the one that fell on him to cause the injury.
#NDFBIsDeterminedToKillMe just took on yet another new meaning.
As if that wasn't enough, the Texas Rangers currently have 13 people on the disabled list. Some of these players, like Profar simply slept wrong and that put them out for the season. Yes there has been more than one person on this team that had a poor night's rest. You can't make this up.
I'm hoping this is all just one large sacrifice to make the 2014 ND football season run smoothly. The only alternative explanation is that I am inexplicably cursed and should stop watching spots immediately.
The Roundup
When Swarbrick talks, you should listen. Savvy Jack sat down with The Observer to talk Georgia, turf, Under Armour, media, and much more.
Notre Dame trying to head to Georgia early? Reports state that ND is trying to swing a summer camp sponsored by Georgia State in 2015. It's quite a little loop-hole that ND is trying to take advantage of and it's weird (and refreshing) to see the Irish not falling behind new recruiting tactics.
The ACC teased big news and all we got was a new logo. Seriously.
The only thing missing is the watermark. Your business card can't match up:
Patrick Bateman would faint if he saw this business card, which is made of some substantial metal. pic.twitter.com/27HmOJUKbK

— Andy Staples (@Andy_Staples) May 28, 2014
FCS ADs are frantically calling Tuscaloosa. Alabama is ready to "play anybody" for a 2015 home game that they can't fill now that everyone else is busy. There's probably a huge payday coming for the school that bends their schedule to do so.
Hatin' Ass Spurrier is becoming my favorite thing. This mix of insults combining the World Cup with college football is just gold.
And now your moment of Nix… Let's let the YouTubes give you a ND Football smile:
[youtube id="Fl7xImvsAsQ"]
The Booze
Vodka + Lemonade — kicking off summer right.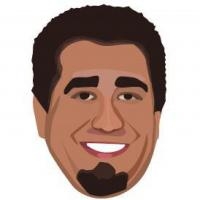 Latest posts by Ryan Ritter
(see all)