In Holy Mother Church (not to be confused with The BVM or your own mother, the first of whom will always care for you, the second of whom will never fail to criticize you) as I was saying, in Holy Mother Church we venerate such things called relics.  The word comes from the Latin relictus, meaning 'that which is left behind.'  Of course, you'd know that if my University hadn't dropped the Latin and Greek requirement – you're all getting weak.  At any rate, a relic is a piece of a Holy Saint, and it gives believers the opportunity to come close to the physical presence of one of our Ecclesiastical Superstars.
In some cases, relics are the whole body of the saint.  In most cases, relics are pieces of that body.  Yes, over the years our favorite All-Church players get cut up so that more people can venerate a piece of them.  Think of your crayons as a child: Wasn't it exciting to break them in half and pretend that you had twice as many!  Same thing here, only the Pope has to approve the chop-shop treatment.
Well, that's what we're doing at my University, as the historic grass of the Stadium is butchered like a hog into small strips of green bacon, and then sent around the country for the veneration of the faithful.  I expect there are exulted window-boxes, cherished corners in backyards, and graves graced with this turf.  Still, I find it somewhere between 'keeping with the Catholic tradition' and downright creepy.  Why not take the whole field and transplant it somewhere else?  Why run it through the abattoir and give the better pieces to those who covet?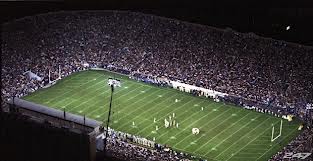 Besides which, the Freemasons who run the bookstore obviously have a hand in this, since anyone who wants a piece of the field must pay for the privilege.  You can't pay for a true saintly relic.  That's called simony and you can get excommunicated for it – meaning 'don't let the church door hit you in the a** on the way out.'  Isn't this a bit of Notre Dame simony?  Chopping up something venerable and selling it?  I suppose the plastic toupee with which we will cover the floor of the living-room-that-Rockne-built won't pay for itself.  But still, it begs the question of what else we will take to pieces and put on the Blue-and-Gold market.
Things We Can Chop Up Like a Medieval Saint (besides the Stadium turf)
The Dining Halls are a treasure trove in and of themselves.  You all steal the flatware and the dishes anyway.  Why not enjoy the trays you put your butts on to slide around on the snow…for a fee.
Then think about South Dining Hall specifically.  Those light-bulbs don't last forever.  Why not have some of the former illumination you enjoyed over your cod-in-salsa…for a price.
Catholics are brutal on their hymnals (not as bad as Lutherans, but still).  Those dog-eared pages, dirty thumb prints, and tears-of-joy/remorse stains make the nice singing books from Sacred Heart something to remember by.  Extra charge for the ones with chewing gum stuck between the pages.
How about a piece of an Irish Guardsman's kilt?  Gorgeous tartan, worn through hard-fought contests, danced in.  And they come with a…fragrance…since the lads do not wear skivvies beneath.  Top dollar.
Having a cocktail?  (Do I really need to ask that?)  When you're having a cocktail, wouldn't it taste better with a couple of ice chunks from Compton to cool it down?  You pay-up for a bloody piece.
What says "I love you, honey" more than a big bag of dirt from the Eck Baseball Stadium?
You know, those Leprechaun fellas graduate each year…how about a finger.  It was his – but now it can be yours.
And I've got the ultimate money-making relic factory: All our trees!  They drop those beautiful Notre Dame leaves!  Every year!  At $5 a leaf…we can rip out South Quad and put down field turf.
Obviously we'll sell South Quad pieces by the foot…and there's soooo many feet!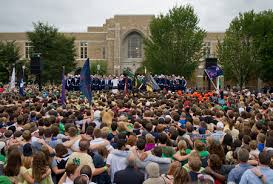 EFS CSC
Latest posts by Father Sorin
(see all)