This past week has seen quite a bit of change for Notre Dame. Of course, HLS being primarily a football site, I'm sure the change that most readily comes to mind is the upcoming switch to field turf at Notre Dame Stadium.
The attention given to this little announcement, and the debates/angst/celebration that have followed, pale in comparison to what I would consider far bigger announcements made by ND this week. On the football side, a "Football Ambassador" group has been announced. This paid position, open to both Notre Dame and Saint Mary's students, is more or less a response to the area of the recruiting arms-race that has spawned recruiting hostess groups. On the academic side, Notre Dame has bid farewell to the swim test and all other PE requirements for first year students. I actually feel bad for the next incoming class on that one. I got to call Latin dance, working out, and racquetball actual ND course work.
The later two announcements caused minor ripples in comparison to the nuclear response that occurred when Swarbrick announced the fake grass. Even the University's attention to the field turf announcement is world's different than the other two. Swarbrick had an on-field interview during Blue/Gold, had a separate interview with Jack Nolan, and ND of course had the usual press release…and that's really just the start. The other two announcements? Just a simple post on the web.
I find it rather hilarious, personally. How ND approaches the Football Ambassador program I think is a fascinating debate (does ND treat it like another Student Manager program or go full SEC?) and the First Year program changes are a pretty big change from what most of us have known as a rather unique part of the Notre Dame experience. Yet, the focus is on fake grass.
And sure, we've played on it here a little bit at HLS. It basically took over the #HLSRecap for Blue/Gold and I even used the news to have a little fun with a sponsored post. Despite that though, the changes that we've placed focus on this past week have been things that have occurred on the field rather than the field itself.
Change itself is a part of natural progression of anything. If you don't change, you will fall behind. The trick though is to pick the battles of what's worrying about and what isn't. ND could play on gold field turf for all I care. I might not be a huge fan of the change, but I won't be burning my diploma or withholding donations because the playing surface simply isn't that important. Now, say ND's new Football Ambassador program strives to be a pure hostess program, I might have a bit more of an issue. That would be an actual departure from the way ND usually operates and what they proclaim their mission to be.
But fake grass? Hardly worth the internet ink.
The Roundup
Looks like Florida State and the Tallahassee PD could use some changes of their own. Like, probably actually trying to investigate rape accusations instead of doing next to nothing.
The NCAA made some changes of their own. One was a rule change that brings us one step closer to not being able to hit a QB and allowing schools to provide unlimited food to their athletes. Time for the food recruiting arms-race to begin.
Only Nick Saban would want to blow it all up after two losses. I mean, I get striving for perfection, but I think he's inching ever closer to insanity.
And now your moment of Nix… Brought to you by Bo Pelini…let's get a little bit of background first. There exists a Twitter account, @FauxPelini, which might just have the best avatar of all time. Well, the real Pelini is well aware of this and has even interacted with the account in the past. However, Bo decided to escalate the joke to amazing levels during Nebraska's spring game by leading his team out with his cat and going full @FauxPelini:
Well. Freakin'. Done.
The Booze
In honor of the last few times that anyone will be able to mow the lawn in the House That Rock Build, I give you Fancy Lawnmower by St. Arnold Brewing Company.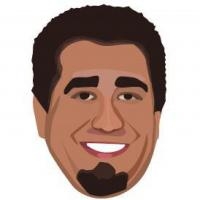 Latest posts by Ryan Ritter
(see all)