Here's a recipe for disaster: have your NOLA bachelor party the weekend after you come back from a trip to Vegas.
Oh, sure, it was a work trip to Vegas; however, since I learned how to run a much smoother trade show, I actually got to hang out with my coworkers and they are just as much a bunch of gambling/drunk degenerates as I am. The most painful of these nights was spurred by one of my bosses leading the way to terrible decisions.
Needless to say, I had a blast.
Now, by the time you read this, I will be boozing in NOLA with practically no recovery time. I never claimed to be smart, but here I am ready to absolutely destroy myself as my groomsmen happily lead me down the path to a liver transplant.
To put it mildly, if I don't die/pass out on Bourbon Street/get stabbed/thrown in jail, I will consider the weekend a smashing success. Yes, I'm all about tripping over low bars.
My imminent demise aside, if this is my last Roundup, I'm going out with a bang because we have loads of links for you this week. So let's get to the stuff you actually care about.
The Roundup
I hear Athens is great in the fall. Georgia that is. Please let this happen.
Happy trails, Digger. The former Notre Dame coach will be leaving the Worldwide Leader.
It doesn't look like Nix is missing that Pinstripe Bowl PS4. He might be missing the joy of a sandwich, but not the next-gen entertainment.
Looks like a "Where Are They Now?" waiting to happen. Christ Stewart is winning awards at the ND Law School.
One of our sponsors is up for a Webby. Do us a favor and give the ND alumni-run Bouqs a vote.
The 21st century version of the "big one that got away." The save button is a very, very important feature.
I think this guy is lucky this is the worst that happened to him. Flying rival colors in your dorm room? That's either serious cajones or insanity.
Speaking of dumb Kentucky fan decisions… Not only was this tattoo a stupid idea, but apparently the guy is more than willing to keep it.
I've always known ref rage is a real thing. Seeing it so scientifically quantified though is a thing of beauty.
Looks like UCONN won three titles. This little flub is beyond hilarious.
Hope you had fun a prom, bro. Because I think Chizik is going to kill you.
Law & Order: Missouri. Star wide receiver Dorial Green-Beckham has found himself suspended indefinitely after being being involved with an assault.
Brent Musburger must be beside himself. AJ McCarron and his bride to be, Katherine Webb, are about to be reality stars.
New recruiting tactic: winking at mom. Coach GQ has found himself quite a nice recruiting advantage.
Michigan's spring game is in the book. Things in Ann Arbor are going…well, not so great.
And now your moment of Nix… Yes, we have a Roundup that features Big Lou and he didn't make his namesake. That honor goes to the ND and Florida State baseball teams for their rain delay antics.
The Booze
As much as I'm loathe to admit it, I'm sure, at some point, a Liquid Cocaine shot is happening. This shot is now a long running joke between my best man and I because, in our younger years, when this was consumed either willingly or unknowingly (he gave me a shot and said it was Jager on my 22nd birthday), bad things happened. Granted, "bad things" is better translated to "stupid, embarrassing shit" that we did when the inevitable blackout happened. It probably didn't help that these shots also happened after we had already been drinking as well.
Everyone's favorite moment of me on this shot: a picture of me being bottle fed beer while I'm flipping off the camera. No, I am not posting that picture here.
I'm still hopeful that I can avoid this, but I am resigned to my fate if it does. If you want to know why I fear this, I suggest finding a safe location, taking this shot first, and trying this out for yourself. You have been warned:
Mix 1 part Jager, 1 part 151, and 1 part Goldschlager (or Rumple Minze) over ice. Pour into shot glass. Kiss your ass goodbye.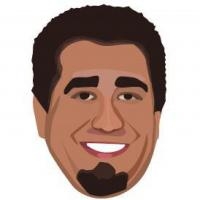 Latest posts by Ryan Ritter
(see all)