So what can make Notre Dame football fans freak out more than rumors of field turf or a jumbotron? A tweet like this:
Latest word I'm hearing is that Under Armour is now the leading candidate to get the Notre Dame contract after 2014.

— Paul Lukas (@UniWatch) December 16, 2013
CLICK CLACK! START PANICKING!
I'm not even sure what causes such hair pulling or, quite frankly, why there is even a preference among fans as to whether Adidas, Nike, or Under Armor is the one to put their logo on Notre Dame's uniform.
After all, Notre Dame has been pretty consistent with their uniform practices as of late. Blue at home, white on the road, and all bets off for the Shamrock Series. It isn't like this will somehow magically change unless Notre Dame is the one that wants it too.
And as I've said before, things like this are all gravy. It doesn't really matter in the end. I mean, what could possibly go wrong?
Under Armour uniform concept, codename "Spatterdash," for the Notre Dame Shamrock Series. #NDFB #Spats #uniwatch pic.twitter.com/Uu3rMyXiWl

— Irish Tightness (@IrishTightness) December 20, 2013
The Roundup
I finally get to put my fiancée's alma mater in a Roundup! Thank you, Barry Hinson, for losing your damn mind.
ITS GRUDEN! IT'S SABAN! Texas is bound and determine to screw up hiring one of, if not the best job in college football. Various outlets started throwing Gruden's name out there, crazy Saban rumors won't die, and for some reason Texas felt the need to hire a search committee to figure this all out. It's the gift that keeps on giving.
Urban Meyer hates losing. I mean, he really hates losing. He also may just eat his feelings.
NO BOWL FOR YOU! Ever feel like sending a really threatening, "I'll never donate or buy tickets again" letter to your AD? Well if you are a Washington State fan and did this, you probably just screwed yourself out of bowl tickets.
Yeah, NCAA this wasn't a good idea. In a court document, the NCAA denied that they had the legal responsibility to protect student-athletes and that the onus is on the member institutions. I'm going to go out on a limb here and say that statement might catch them quite a bit of grief.
BCS CHAMPIONSHIP MEGACAST! Crazy Idiocracy-like name aside, some of the options for watching the game sound pretty cool, especially the one that let's you have a pure stadium audio feed and no play-by-play.
We're #2! Forbes has released their list of most valuable college football teams. Notre Dame comes in well behind a certain school in Texas looking for a coach.
Diaco is introducing himself to America. Thankfully, he is doing so complete with werewolf and vampire references.
And now your moment of zen…
https://vine.co/v/htnhvV1ZZ0X
Put These Games on Your Radar #HLSBowlMania
In lieu of picking and listing out games, I encourage you to join #HLSBowlMania. I will also use this section to update the standings and maybe crack a joke or two at someone's expense — possibly my own.
Remember, games start this Saturday, so make your picks if you haven't!
(Note to self: make your picks, Tex).
The Booze
It's been one hell of a rough year in terms of my day job. My last day for 2013 was yesterday and it's time to start a well deserved vacation. With that in mind, there is only one beverage I reach for when it's time to kick back and relax: bourbon. Sweet, glorious bourbon.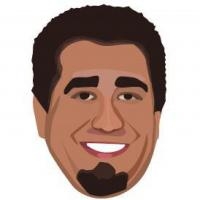 Latest posts by Ryan Ritter
(see all)