On Saturday, Brian Kelly confirmed what most Notre Dame fans have been bracing themselves for ever since the loss to Pitt: a Pinstripe Bowl berth. The game will be played on Saturday, December 28 at 12:15 PM (ET) and will air on ESPN.
Even though Kelly had mentioned that the team would prefer to play in a warmer climate, he said in his presser on Sunday that the Pinstripe offer was simply one the team couldn't refuse:
When you're dealing with our guys, it's bowl packages, right? It's just been a very attractive bowl package for our guys. I don't want to get into the details because I think we'd like to probably keep that amongst ourselves.

But when I was standing here in front of this big screen, I put up the Power Point, I went from talking about the Pinstripe Bowl, had my guys' attention. They came out of their chairs when I showed them the bowl package. I didn't get that popular in a very short period of time. They were very excited about the things they were going to get from the bowl package.
After Kelly's presser, senior receiver T.J. Jones gave a little insight into the package that got them so excited:
Receiver TJ Jones said the bowl package included a Playstation 4, a bowl ring and "a lot of clothes and hats." He said a trip to Radio City Music Hall and Rockefeller Center were other selling points for the trip.
Other warm weather destinations such as the Poinsettia Bowl and the Hawaii Bowl were considered: however, Northern Illinois' final loss of the season took that off the table. As for the Hawaii Bowl, travel concerns were the main issue. With finals ending at ND on December 20, the team would have to leave on December 21 and miss many of the events surrounding the Christmas Eve game.
In short, if the end goal was to try and reward the team, it seems that was accomplished.
While the team will surely enjoy New York City during the holidays and get some great bowl swag, the game itself leaves much to be desired from a fan perspective. The matchup against Rutgers is one of the most lopsided of the entire bowl season. Take any rating match up that you'd like and the game simply looks horrid on paper: 8-4 vs 6-6, #19 vs #98 (FEI rank), #25 vs #103 (Sagarin), #26 vs #82 (BCS), etc.
Unfortunately, this is what happens when Notre Dame has no bowl tie-ins and misses the BCS. As rumors of playoffs swirled, no one wanted to lock ND tie-ins to any contracts, leaving the Irish in no-man's land for postseason play.
While I am not overly thrilled about the potential matchup, I will always be happy to take another Notre Dame football game in, even one that isn't that great. Further, from a program building perspective, I will always welcome the chance for the Irish to get more practices under their belt, especially the younger players. Every rep is valuable both in practice and in the game.
One player that will also be finding himself in the role of a fan will be Louis Nix III. Big Lou signed with an agent and as such, he is now a professional, meaning his time as a student athlete for ND is done. This means that he is no longer a member of the team, meaning he gets no bowl swag, no free trip, and he cannot even attend bowl practices (unless he is brought in as a guest, which happens often). I have a feeling though that the future first-rounder will easily be able to afford his own swag quite easily as well and paying his way out there should he chose.
While this move was certainly expected, Nix couldn't officially leave ND without doing something else that is made of pure Irish Chocolate awesome. As the early NFL games were under way, Nix left a little gift in South Quad:
Just dropped off a duffle bag of my old issued gear to South quad. #Enjoy #OneThingPerPerson pic.twitter.com/CWurU6W5hj

— lOUIS NIX III (@1irishchocolate) December 8, 2013
And, yes, people did partake in the gift-giving:
https://twitter.com/spence_fence/status/409785198763446273
Even fans that didn't get to the bag in time got a little something, but who knows, there could be more to come:
@MGolicJR57 Golic I have something special for the ND students

— lOUIS NIX III (@1irishchocolate) December 8, 2013
Needless to say, the departure of Nix will leave some huge shoes to fill in not just talent, but personality. He is truly one of a kind and is going to be one hell of an addition to an NFL locker room.
Best of luck Lou, you are already missed.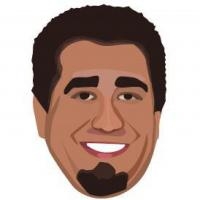 Latest posts by Ryan Ritter
(see all)