Usually we spend our Thursday's doing what we can to break down our next opponent. This week though, we are doing something a little bit different.
Justin Potts over at Maize and Go Blue reached out to us earlier in the week and asked if we could detail how Notre Dame could beat Michigan. There was no way I was going to pass up a chance to blueprint Skunkbear demise on their on turf, so I graciously obliged.
Now, we may hate Michigan with a passion here at HLS, but we are all about fair play. Since Justin allowed me to give the ND perspective and preview, I felt it was only fitting to allow him the same courtesy.
Plus, it saved me from having to watch the Michigan/Central Michigan game over and over again to try and do this myself. Win-win for everyone!
If you'd like to keep tabs on Michigan, be sure to follow Justin and the Maize and Go Blue team on Twitter @MaizeandGoBlue, For now though, it's time to let Justin take over.
Devin Gardner Is Not Denard Robinson
First of all, Devin Gardner is much taller than Denard Robinson at a legitimate 6-4. Denard was listed at 6-0 at Michigan, but measured 5-10 at the NFL Combine. Devin doesn't have a problem throwing over defenders like Denard did. As much as Michigan fans loved Denard for his game-breaking ability, it was incredibly frustrating seeing him get several passes batted down at the line of scrimmage every game. We all hoped every season that his passing would improve, but his size limitations and arm strength simply made it unrealistic.
Devin is a true quarterback with a big arm and the ability to run when things break down. I would compare him more to Texas Vince Young (not NFL Vince Young) as opposed to Denard. There aren't many designed runs for him, except inside the five-yard line when he lines up in the I, fakes the handoff, rolls out and beats the linebackers to the pylon. But he is very good at moving around in the pocket and pulling it down and taking off when nobody is open, and like Young, he's not easy to catch or bring down in the open field.
Devin has great chemistry with receiver Jeremy Gallon, although I think we saw it a little bit against Central Michigan sometimes he falls in love a little too much with Gallon and doesn't look elsewhere. Much of that has to do with no other proven receiving threat at this point, so hopefully throughout the season that will develop.
The main knock on him at this point is his decision making. He threw two picks last week, but I think those were more a result of first game jitters than an indication of what's to come this season. He spent time in the offseason with quarterback guru George Whitfield, and also Peyton Manning and received rave reviews from all of them, so I think his ceiling is much higher than Denard's.
Who to Watch for
Aside from Gallon, who you guys are familiar with from his 64-yard catch and run in the final seconds to set up the game-winning touchdown in 2011, the main offensive playmaker would be tight end Devin Funchess. He's really the only other proven dangerous pass catcher we have right now. Michigan fans are waiting for sophomore receiver Jehu Chesson to break out, but he went without a catch last week and was only targeted a couple of times. The receiving corps suffered a big blow when Amara Darboh was lost for the season during fall camp. He was expected to start and be a big playmaker.
Another guy to watch for is Dennis Norfleet. He's small, shifty and very fast. In fact, he said he was faster than Denard last year. He took a reverse 38 yards last week and is a threat to break a touchdown every time he touches the ball on kick and punt returns. It's only a matter of time before he does. He was moved from running back to defensive back to slot receiver this year just to get him on the field.
I think the jury is still out about our running game. Fitz Toussaint is the known commodity and everyone hopes he can return to his 2011 form after a lackluster 2012 that ended in injury. Behind him is the guy Michigan fans are excited about, five-star freshman Derrick Green. He busted a 30-yard run last week but also showed he can be a bruising short-yardage back. I think the ideal situation is Fitz to carry most of the load with Green getting 8-12 carries a game.
Defensively, Michigan has more playmakers in its back seven than it has had in a long time. The corners, Blake Countess, Delonte Hollowell and Raymon Taylor are solid and freshman Channing Stribling is really pushing for playing time as well. Jarrod Wilson looks like the tall, rangy free safety that Michigan hasn't had in years, and proven veteran Thomas Gordon returns from his week one suspension at strong safety. The linebackers, Desmond Morgan, James Ross, and Cam Gordon, are smart and instinctual, even without Jake Ryan who is still recovering from a torn ACL. The main question mark is the defensive line. They sacked CMU four times on Saturday and stuffed the run, but again, it was CMU, so this Saturday will be the real test. But there are a lot of quality bodies that can rotate in and out, which is just how Greg Mattison wants it to keep them fresh. Frank Clark has the ability to be a very good pass rusher, but also tends to get in the backfield too quickly and loses contain at times.
Brendan Gibbons has become a very reliable kicker, which no Michigan fan would have thought possible after his freshman year in 2010 when he made 1-of-5. He tied the Michigan record last week with his 14th straight field goal made, and if the game is on the line, I like his chances.
ND/Michigan Series Cancellation: A Michigan Man's Perspective
The Michigan-Notre Dame rivalry ranks right up there with Michigan-Ohio State in my books, even though it hasn't been played over 100 times. It almost always produces a great game and it just feels right that college football's all-time winningest teams should play every year. I like that it's an early season game to bookend the season along with the UM-OSU game. My wife and her whole family are Notre Dame fans, so bragging rights are on the line every time too. It's a shame it has to end after next season.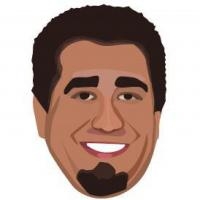 Latest posts by Ryan Ritter
(see all)