'Twas the week before kickoff, and all through Rock's House
Not a creature was stirring, not even a mouse.
The mums were planted along the sidelines with care,
Even though most fans could care less if they're there.
Irish fans were nestled all snug in their beds,
While visions of tailgates danced in their heads.
My fiancée in bed, and I on HLS,
With a beer in my hand and sports math to express.
When out on the lawn there arose such a clatter,
I sprang from my desk to see what was the matter.
Away to the window I flew like GA3,
But tripped over the cat and banged up my knee.
The moon shone down on this hot Texas night
Allowing my ND flag to shine in its light.
When, what to my wondering eyes should appear,
But ND-1, in all its glory right here!
Out came the driver, asking for a NYC deli,
I knew in a moment it must be Brain Kelly.
More rapid than Trojans his football team came,
And he whistled, and shouted, and called them by name!
"Now T.J.! Now, Niklas! Now, Bryant and Reesus!
On, Tuitt! On, Shembo! Nix, put down the Reese's!
To the top of the rankings! We'll light up Grace Hall!
Now dash away! Dash away! Dash away all!"
Like a running back against a Hurricane defense,
When the Irish meet an obstacle, it will be dispensed.
So out in practice in preparation they flew,
With the popping of pads, and gauntlet drills too.
And then, in a twinkling, I heard on the side,
The sigh and dismay from my future bride.
As she returned to the bed, and was turning around,
Down the sidelines Brain Kelly came with a bound.
He was dressed in Adidas, from his head to his toe,
And his clothes were so clean that they had a faint glow.
A bundle of plays swam around in his mind,
And he looked like a schemer, with this mental grind.
His eyes-how they twinkled! His dimples how merry!
12-0 transformed him from purple-faced scary!
His droll little mouth was forming a smirk,
For the joy that he felt not being driven berserk.
The end of a whistle he held tight in his teeth,
And its shrill surrounded the field like a sheath.
He had a broad face and a menacing glare,
That could strike fear into all, friend or foe so beware!
But he's calm and confident, even with Golson on the shelf,
I wondered if he'd lost it, I thought to myself!
A wink of his eye and a twist of his head,
Let me know 2013 brought nothing to dread.
He spoke not a word, but went straight to his work,
And drilled all his players, then turned with a jerk.
And laying his finger aside of his nose,
And giving a nod, practice came to a close!
He sprang to the truck, to his team gave a whistle,
And they all drove away, taking off like a missile.
But I heard him exclaim, before this dream was through,
"Happy football to all, and fuck Michigan too!"
The Roundup
I'm pretty sure the NCAA is ready for the offseason to end too. This week, they got another black eye when news broke that an ex-Marine couldn't play because he participated in a rec league. In realty, the rule triggered could be chalked up to a legislative oversight and the NCAA ended up waiving the rule anyways, but still, everything stumble the NCAA makes at this point is major. I'm sure they are ready for actual football to distract everyone.
Start the outrage, ND QB kicked out for bad grades not in school. Kelly mentioned today that Golson is going to work with a QB coach for two months in San Diego. Although he plans on returning this winter to ND (Thanksgiving to be specific), the lack of mention of classes might concern some. Perhaps now is a good time to remind everyone that Golson enrolled early and has a full semester, plus a summer session head start. He'll be fine.
You did not win that division title, Clemson. And, no, putting an asterisk on it doesn't make it any better.
It's time to find out you are an awful human. Take this college football rivalry survey and watch the dark places that football hatred will take you.
This space was originally reserved for making fun of Purdue. They made a rather awful rap video, which sadly has been removed. However, it stayed up long enough for even Purdue to be completely mortified, but somehow they had the stomach to do a complete breakdown of it. At least we had the stomach to take our Freekbass beating, but I guess we'll just have to return to our regular bits about Purduzzzzzzzzzzzzzzzzzzzzzzzzzzzzzzz.
UPDATE: The Streisand effect is alive and well. God bless you, citizens of the internet:
http://youtu.be/_FxfMR7_Yaw
Put These Games on Your Radar
Football will officially return before the next Roundup! Need a Thursday night college football fix? I suggest the following:
North Carolina at #6 South Carolina, 6:00pm ET, ESPN/WatchESPN – The offseason finally ends. Watch Clowney kill someone.
Tulsa at Bowling Green, 7:00pm ET, ESPN U/WatchESPN – Sweet, sweet MACtion returns to the airwaves.
Ole Miss at Vanderbilt, 9:15pm ET, ESPN/WatchESPN – SEC conference game in week one?! What is this madness…ok, yeah it's two of the lesser teams, but both schools are on the rise. This should be highly entertaining in a week full of creampuffs.
#24 Southern Cal vs Hawaii, 11:00pm ET, CBS Sports Network – Marqise Lee possibly banged up and Kiffin still hasn't named a starting QB? This game just got somewhat more interesting. No, I don't expect the Trojans to lose, but I can always hope and pray for Kiffykins fail to start the season, right?
The Beer
I'll admit, I'm usually not one to buy beer because the name of it caught my eye, but this time I made an exception. I saw a beer called La Dame du Lac, and well, I just had to. The beer is actually named after an urban legend here in Dallas, but obviously I purchased it for Notre Dame reasons.
It ended up quite delicious (and I think I'm slowly becoming a huge fan of malted beers). Have you ever grabbed a brew solely on the name? Let me know, interested to see what other local breweries around the nation have cooked up.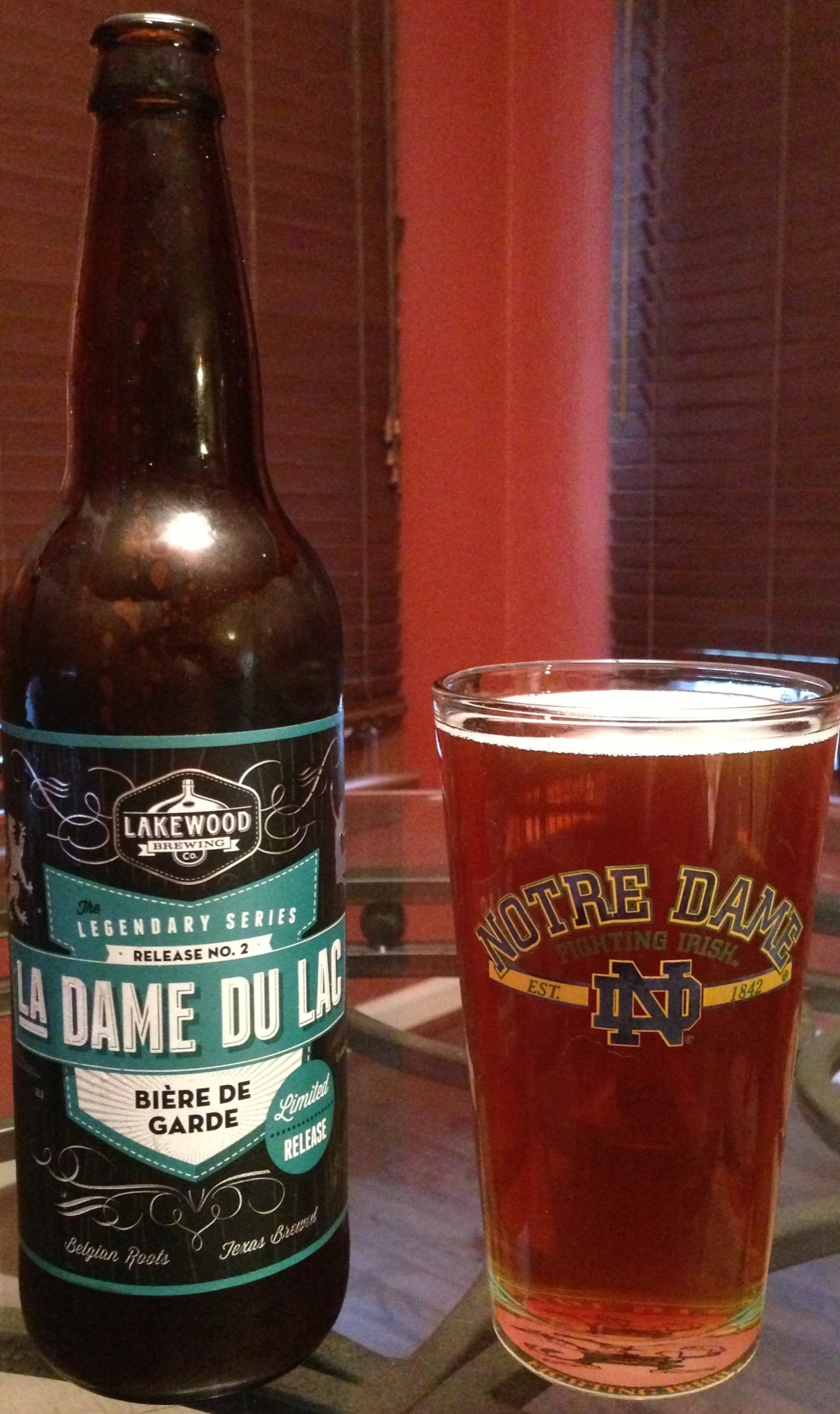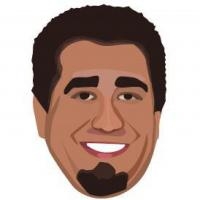 Latest posts by Ryan Ritter
(see all)