Every year, the Notre Dame Club of Dallas gets ready for the upcoming Notre Dame football season with our annual kickoff party. The event allows our membership to enjoy to some food and drinks while we raise money via live auction for our scholarship fund, given annually to local Dallas students that attend ND (as a reference, last year, ND Dallas gave $70,000 out to 22 deserving students).
One of the highlights of this event though, is the special guest that comes to talk to the club and participate in a Q&A. This year, that special guest was none other than the voice of the Irish, Director of Media Productions for Fighting Irish Digital Media, and honorary Monogram winner, Jack Nolan.
Biscuit previously profiled Jack here on HLS and I was happy to finally meet and talk to him face-to-face instead of behind a screen during a Google+ Hangout. I also enjoyed the shout-out to HLS during my question in the Q&A when he called me "my great loyal son".
So without further ado, here are the highlights from the ND Dallas Kickoff Party with Jack Nolan:
Did You Know?
Here are some quick tidbits that came from Jack throughout the event:
Jack nearly started his career off in Texas as a Cowboys beat writer. There was one catch — the job was in Abilene, not Dallas. He decided a six hour commute wasn't such a great idea and went to CNN instead before finding his home under the Dome.
FIDM does more than just cover ND football. They cover all 26 sports, as well as doing video work for the University beyond athletics. And they do this all with a staff of only five full-time employees.
Notre Dame Stadium's inner bowl is painted battleship-gray and remains that way because of Navy. While many fans are well aware of the story of how Navy saved ND from closing during Wold War II, you might not know that Navy also donated their surplus battleship paint to ND so we could paint the stadium. Just another chapter in one of the mots unique relationships in college football.
On His Favorite Interviews
To no surprise, Manti Te'o stood out, calling him a "remarkable interview and a remarkable young man." And that whole Lennay mess?
There are athletes across the country who get in a whole lot of serious trouble that you never hear about. I don't think that a fake girlfriend should be up there.
I couldn't agree more.
Is Brian Kelly Really Getting QBs from the Dorms?
While Kelly was mostly joking he actually is looking to add QB depth — for the scout team. Kelly wants Malik Zaire to take reps with the first team and get needed experience running an offense he could be leading in a hurry. Rees will be departing, and Hendrix, while he has a fifth year available, hasn't seemed to take that next step quite yet. While we all expect Golson back next semester Jack reminded us that this ND and the final decision "isn't up to the football coach." So while we are all hopeful Golson can be back as planned, Kelly must prepare for the worst case scenario and Zaire taking scout team snaps won't help that.
Personally, I think this speaks volumes to how high the staff is on Zaire's potential.
Would Kelly Consider a 2-QB System with Zaire?
This question was asked by former Irish WR, Omar Jenkins, who wondered if Kelly would consider running a Rees/Zaire combo to make up for the loss of Golson and the mobility skill-set that is now gone.
Jack's short answer to this was that Kelly hadn't said anything to that fact yet. Jack isn't quite sure that Zaire would be ready to see any playing time this year; however, he does see a lot of positives at this early stage in his career. In particular, he has noticed that the defensive backs seem to have more issues adjusting to Zaire's southpaw passes than they do for other QBs.
Jack also noted that we shouldn't discount the progress Rees has made as well, especially physically. Jack has noticed more muscle on Rees' frame and increased arm strength (please be true). Hopefully, these physical gains bode well for Rees because, as Jack noted, Kelly only named Rees his starter for game one.
Should We Be Concerned with Tuitt's Weight Gain?
Jack did note that Stephon probably looked "ten pounds" too heavy, but that will likely fall off during camp. Further, Tuitt continues to be a beast and this story from Camp Shiloh during an Oklahoma drill that featured 1st team D-line vs 2nd team D-line, pretty much sums it up:
Every person that Stephon Tuitt hit bounced back at least five feet — two of them hit the ground and rolled. It got to the point they would look up and go 'Oh no, we got Stephon.' Don't worry about Stephon.
Don't Sleep on T.J. Jones.
Jack agrees with me that T.J. Jones has been overlooked, especially considering his production was comparable to Eifert's.
Of Course There Was a Punt Returning Question!
I had planned to ask this, but my thunder was stolen immediately before my turn at the mic. However, we can now put our minds at ease because ND does indeed have a plan for the punt return game:
Yeah, they are going to return the ball this year.
REJOICE!
In all seriousness, Jack noted that Greg Bryant and Amir Carlisle seem to be the early favorites for helping save perhaps one of the most maddening things from the 2012 season. While talking to Jack as the event winded down, I got the impression that Greg Bryant is his favorite to win the job.
Here's My Question. Spoiler Alert: It's a Softball.
No lie, I panicked here and didn't feel like whipping Jack with a question of "what happened to your tooth", so I went with asking for his opinion on which incoming freshman is standing out the most thus far. His pick: Greg Bryant.
Jack went on to note that only "spectacular" or "Tim Brown-type" freshmen will be able to see significant playing time due to the talent and depth that Notre Dame now enjoys. Now, he isn't predicting that Greg Bryant is a guaranteed super star, but being mentioned in the same line of thought as someone like Tim Brown speaks volumes as far as I'm concerned. I'm very excited to see what he can do.
Continuing with the Freshmen, Jack's Thoughts on Jaylon Smith.
Jack likes the way that Jaylon carries himself, calling him a "Yes sir, no sir" kind of guy. He thinks players like Jaylon are a prime example of the depth that ND is building on defense, ending his answer by noting that he thinks this defense will be better than last year.
On the ACC and Basketball.
Jack believes the ACC is a "perfect fit" for Notre Dame considering the conference is filled with the "most like-minded schools." Further, Notre Dame is now out of the awful predicament of not having quality post-season bowl bids.
As far as basketball goes, Jack said that "Mike Brey's got more talent than [Jack's] ever seen him have" and sees the roster as having nine to ten true D1 talents. In particular, he thinks Demetrius Jackson is outstanding. This biggest challenge Jack sees him facing is the pressure of handling being the star in his home town and the large expectations it brings.
With Jackson in the fold, expect to see ND run a three guard lineup featuring him, Eric Atkins, and Jerian Grant.
Jack also sees away games in the ACC being much different than what the Irish are used to. With arenas that feature crowds right on top of the courts, crowds that are going to be hungry for their first shot at the Irish, the road schedule is going to be quite the challenge.
Finally, Jack talked about NCAA tournament disappointments. He noted that the Irish are always seeded based on their performance on the court, never by their athletic ability. This tends to lead to matchups to lower-seeded, but more athletic teams like Iowa State, which can give the Irish in trouble if they have a bad game (which they definitely did in their last appearance). The next step for the Irish is to use their more athletic lineup to match up with these teams and start making progress in the tournament.
Lessons Learned from the Alabama Loss.
And here comes one of the most quotable parts of the night:
Alabama's awful, awful good guys. The SEC is in its own different world. They run their programs differently.

I think we just learned [Notre Dame isn't] there yet. They need more players. They need more depth and Kelly's talked about that. They don't have the depth of Alabama just yet. They have to get to that.

I also think they learned that they're gonna have to mix things up a little bit — especially on defense. I mean, Notre Dame had a defense that did the same thing every week and they did it exceedingly well. But you give a national championship program six weeks to get ready…they were able to pick it apart.

I don't think Manti was right and how could you be in that situation. But the middle linebacker can't be good if the line is getting blown up and the line was really blown up because Alabama was just better in the tranches.
I think this is a rather solid assessment by Jack and I definitely agree with him (save for Louis Nix who had a solid game, but 'Bama stayed away from him). He also mentioned that ND getting some bad breaks didn't help much psychologically either, but the fact remains that ND still has some work to go to close the gap against SEC powerhouses.
Are There Any Other Schools That Are on Our Side?
This question was asked in light of comments Steve Spurrier made about ND recently. In short though, the answer is no:
In the college football world, nobody likes a team with their own network.

…

I think [other schools] support and respect Notre Dame, but I don't think anyone likes the situation Notre Dame is in. And every single one of them will take it if they can get it.

…

Notre Dame would make at least ten to twelve more millions dollars if they had joined the Big Ten than they get from NB….Jesse Harper said this back in the early part of the last century and Fr. Jenkins has repeated it: the mission of the Notre Dame Athletic department is to promote the values and mission of the University and to generate funds for the academic side. And you would be stunned at how much of the money goes to the academics at Notre Dame and that's probably how it should be.
Closing Comments About the Shamrock Series

Jack ended the Q&A session with a few notes about the upcoming Shamrock Series game in Dallas:
The game has a different "buzz" than a usual home game. It isn't better, but just a different a unique atmosphere.

There will be a pregame show hosted by Jack two hours before the game at AT&T Stadium and will include a video interview from Tim Brown shot at this event.
All ND Dallas Club members in attendance shot a welcome message that will air during the first timeout in the stadium. This means you will see my face on the biggest damn TV in the world. I'm sorry.
—————-
I want to thank Jack for taking the time to come down to Dallas for this event. He was great during the Q&A and took lots of time afterwards to chat with Irish fans well after it was over.
Thanks again, Jack!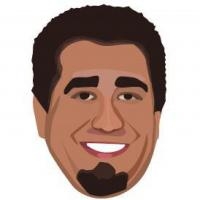 Latest posts by Ryan Ritter
(see all)