The calendar has finally flipped over into August, a month with actual football. Notre Dame's camp opens on Monday, preseason polls are out, and it time to put the offseason nonsense behind us and get back to focusing on actual football once again.
Yes, this also means closing the book on the Eddie Vanderdoes situation.
While we may not know the lasting effects this may have on the National Letter of Intent, there is nothing more that will come of this situation. Keith Arnold over at Inside the Irish has the best account of the entire saga and, unless he is somehow able to change UCLA's mind on his Freedom of Information Act petition, we won't find anything more out. Vaderdoes is fully within the UCLA fold and they would be crazy to go on the record and add fuel to the fire.
Even Joe Davidson of the SacBee won't get anything out of him at this point. In his latest on the situation, even Davidson, who has had an inside line to the family got nothing:
Vanderdoes, who enrolled at UCLA after it was announced he would not play at Notre Dame, did not return The Bee's calls. His father said Vanderdoes was moving into his dorm in Los Angeles and preparing for the start football camp this weekend in San Bernardino.
Vanderdoes is more worried about starting his college football career. He has better things to worry about than rehashing a situation that is closed (and closed in his favor at that).
Likewise, we as Notre Dame fans have better things to worry about. Remember Aaron Lynch? Remember how quickly his departure became a non-factor even though losing him sucked?
What if Lynch went on the record now and scorched the earth by going off on Notre Dame, would you really care? If somehow it does, I suggest you re-check your priorities as a ND fan.
What's done is done. If something else happens to come to light, it won't really move the needle much anymore. It isn't bringing Eddie back to South Bend and I'd much prefer to worry about Notre Dame trying to make a national title appearance once agian.
The Roundup
Speaking of offseason insanity, Johnny Football-mania has reached critical mass. He now finds himself the subject of two cover stories. One for Sports Illustrated (no free link for this one) and one for ESPN the magazine. God help this kid if his season goes in the tank.
The Carlos Hyde saga is also at an end. No charges will be filed, but Meyer has benched him for three games.
Kiffykins, the gift that keeps on giving. In a change from their usual policy, the media is now banned from Southern Cal practices. I know it's standard operating procedure for most teams, but seeing any heat come Kiffin's way warms my heart.
EA's lawyers could be working overtime. With the O'Bannon case is still outstanding, EA got smacked with a loss in another case allowing ex-NCAA atheletes to sue the video game publisher.
Oregon has built a Death Star. Seriously.
Forgive me while I bring the room down. This should put our offseason worries in perspective: two young men gone way too soon.
And now, your moment of zen. Because after that last story, something like this is definitely needed:
.@EricLeGrand52's #52 will be the first jersey retired in 144 years of #RFootball. #bELieve pic.twitter.com/IrroZQsnNP

— Rutgers Football (@RFootball) July 30, 2013
The Beer
One of our Loyal Readers, Kevin Burke is also moving on this week. Except what he is moving on is much bigger than an offseason or college football as a whole.
Kevin has just finished his tour of Afghanistan and will be coming back stateside. Upon hearing this, I told him this week's beer selection was completely in his hands.
His choice is his favorite beer, Blue Moon.
So have one to celebrate the impending end of the offseason, for Kevin, for our troops, and for AMERICA!
Welcome back home, Kevin!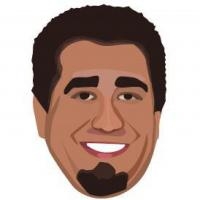 Latest posts by Ryan Ritter
(see all)