So let's be honest, the Blue/Gold game was rather uneventful. The offense struggled mightily and it took until the fourth quarter for the Irish to find the endzone. The game was largely fairly dull and boring.
Then one two point conversion changed everything.
Louis Nix III lined up at quarterback and Irish Chocolate found the endzone for two points on a QB draw. It was epic, legendary, and you bet it is worth every word in this Inside the Film Room breakdown.
All images come via this YouTube highlight on the ND Athletics Youtube page.
Let's get to it.
Any good QB knows that a successful play starts before the ball is snapped. Big Lou ensures that proper adjustments are made and God help you if you don't make them.
Lining up wrong for a 300+ pound man is not good for your health.
Above we have the entire formation. The box is overloaded, clearly expecting Irish Choclate fury straight up the gut.
Post-snap, the Irish defense rushes six at Nix, leaving only ILB Kendall Moore (#8) and Safety Austin Collinsworth (#28) as the last line of defense.
Nix appears to drop back to pass and panic sets in. A defense's greatest fear, giving up a passing touchdown to a nose tackle, could become a reality. Collinsworth immediately heads over to the receiver to his left and Moore slides over to cover the middle of the goal line.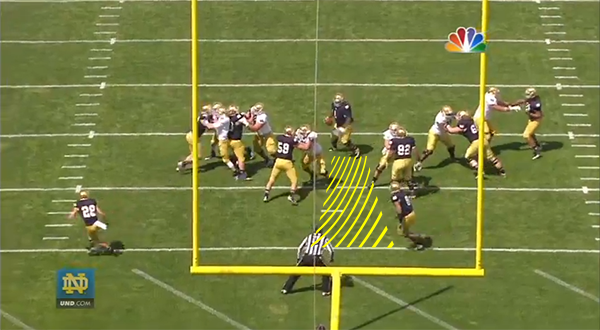 Nix now notices the…uh…Nix-sized hole up the middle. The defense has bought the fake and it's now time for Irish Chocolate to barrel his way into the endzone.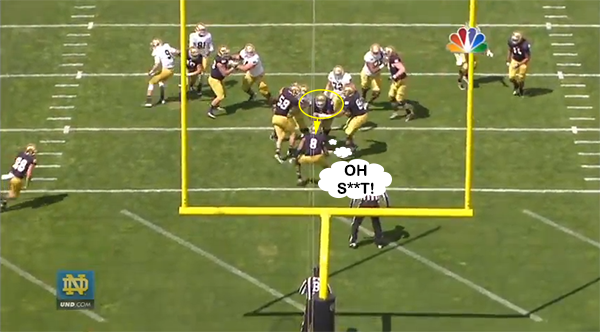 Big Lou rumbles up the middle, easily breaking a weak one arm-tackle by Tyler Stockton (#92, right of Nix). Speaking of, who tries to use one arm to bring this man down?!
It's a little hard to see in the screen capture, but Nix (circled) has lowered his pads perfectly and is ready to absolutely destroy Kendall Moore. In the name of hard-hitting analysis, I have displayed his likely last thoughts above and below.
Deciding that becoming a roadkill is not a desireable way to end his spin, Moore goes full matador and gives Nix the 'ol olé.
Put it all together and you have pure magic in motion (and I do believe the first GIF we've actually made ourselves here at HLS):
Want to see how it all came together? Check out one of the greatest ICON's ever:
And don't miss Nix's epic post-game interview: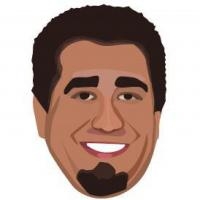 Latest posts by Ryan Ritter
(see all)