Well the month on January certainly flew by and sadly not a whole lot of it was positive from the Notre Dame side. Wrong side of a championship blowout, Brian Kelly checking out the NFL, and the Te'o Hoax — that's the hand that we got dealt this month.
I started the whole #NDFBIsDeterminedToKillMe bit on Twitter as a joke to best sum up my frustrations with Notre Dame football a couple of years to go. This month, I'm surprised it didn't actually happen.
Thankfully we are getting back to normal…well, as "normal" as things can possibly be as a Notre Dame fan. At least the news cycle is now not dominated by fake girlfriends and creepy people running a hoax. So we do have that going for us.
So for the first time in nearly a month, here is a regularly scheduled Roundup. One devoid of topics that have made us pull our hair, slam heads on desks, and made us shake our heads.
Actual college football news y'all!
The Roundup
Let's get Notre Dame on the cover of NCAA '14. Voting is open and you should vote now. Spread the word.
Arkansas' 2012 season is still hanging on and still in train wreck status. Former coaches calling the team out for quitting? Ouch.
The Big XII wants a conference championship game again. But having the required 12 teams? Nah, consider petitioning the NCAA to make up special rules instead. Unrelated, let's have an Independent championship game because Big XII reasons.
The Big XII also seeks friends with benefits. I'm not making this up, they actually said this in regards to an ACC partnership. They are also considering hooking up with the SEC. In short, go home, Big XII, you're drunk.
Roll…Deer Antler Spray? I can't believe I'm about to type this, but Alabama has players accused of using NCAA banned substance in a deer antler spray. This is a thing that exists and Alabama had to tell the company to buzz off not once, but twice. I now await a scandal involving elk urine.
Because my state legislature apparently doesn't have anything better to do. A bill has been filed to force Texas and Texas A&M to play football again. Tax dollars hard at work!
Oh hey look, more politics and football! Two Pennsylvania congressman want the NCAA to reverse all sanctions against Penn State.
On a lighter note, Stephen Garcia now has a Twitter account. Who in the hell is the law firm that hired this guy? Some unofficial legal advise from someone that's not a lawyer: if you see Stephen Garcia walking around your lawyer's office, run.
The Beer
I'm still in a weird winter weather situation here in Texas. It's been in the 70's most of the week, with today getting a slight "chill" that would have students in South Bend out tanning in the quads.
Anyways, weather be damned, I felt like a porter. Considering that most of the Bend is covered in snow right now, I'm going with Leinenkugel's Snowdrift Vanilla Porter.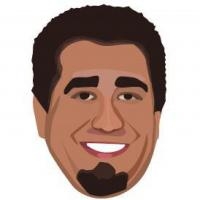 Latest posts by Ryan Ritter
(see all)