Back in the offseason, the 2012 Notre Dame schedule took center stage in one of our DEBATE THIS! features. It seemed as if the entire HLS staff had a different opinion on this issue. Grantland-X thought it was perfect, Bayou thought it was insanely difficult, and I thought it would end up much like 2011 when it was all said and done.
What we didn't account for though was just how readily the Irish strength of schedule (SOS) would be dismissed by the very same people that ranked it as the toughest schedule in the nation before the season started.
Granted, I can understand why Notre Dame's schedule isn't the toughest in the nation anymore. Michigan and Michigan State are having down seasons along with most of the Big Ten. USC doesn't look like the preseason juggernaut everyone thought they would be either.
Despite that, the Irish currently being discounted as the "worst" of the four unbeaten favorites for the BCS title is absurd. Any statement that the Irish have played an "easier schedule" have "barely beat anyone" or any other similar statement is simply not true by any stretch of the imagination.
Let's just look at the raw data. Below, I have listed all five unbeaten teams, their opponents winning percentage, and the SOS ratings from each BCS computer poll that uses them (the only one that doesn't is Wolfe's ratings as he uses a win probability rating instead of SOS). Yes, I did include Louisville even though they aren't in the discussion right now, although you will soon see why:
[table "" not found /]
Feel free to click on the headings to sort each column too. The only times Notre Dame will fail to finish on top are Massey's SOS rating and alphabetical order.
So if only a single computer ranking has Notre Dame's SOS just two spots behind current consensus number one, Alabama, how in the world has this "Notre Dame has barely played anyone" narrative popped up again?
Probably the most likely response most Notre Dame fans will have is that their is a clear anti-ND bias holding the Irish back. I can't blame the reaction either considering how much names like Rick Reilly, Mark May, and Colin Cowherd have popped up all season long.
The ND "hater" crowd will likely have a different response. Their reasoning is that the Irish don't belong to a conference and hence their schedule is watered down. The Irish have played teams mostly from a weak Big Ten and a weak ACC, they will say. If it weren't for OU, one of the top Big XII teams, and USC, one of the better Pac 12 teams, the schedule would be worthless. Oh, and don't forget, Notre Dame hasn't yet proven itself against the S-E-C, PAWWWWWWWWWWWWL.
However, both of those arguments though hold little to no water.
While there are quite possibly a handful of polls written in by folks knocking ND down an additional peg or two, the volume isn't enough to outweigh the rest of the ballots being cast. It would be like saying they also had an anti-Oklahoma State agenda last season.
Irish independence isn't what's holding this team back either. Sure, lots of teams are helped (or hurt) by their association with their conferences and some lazy pollsters do vote based on that. However not every pollster ignores the fact that ND's schedule isn't filled with junk FCS teams or bottom feeders of non-BCS conferences.
No, the root of the problem is far different and actually two-fold. The first was actually something that I complained about when my turn came to debate the ND schedule: our schedule's strength is front-loaded at the beginning of the season.
Case in point, remember when I said that Michigan is having a "down year"? You probably believed me, right?
Well, in reality they are 6-3 and their loses are #1 Alabama, #4 Notre Dame, and #16 Nebraska. The problem is that we played them so early, that they already had two losses and their luster was immediately gone in the polls. In the minds of the voters, that win was no good. However, when you look at their season again, they are far from awful and could climb their way back into the top 25.
So why didn't this hurt Alabama as much, especially since they played them earlier than we did?
That's because Alabama has done a lot more since then. After Michigan, they spent a lot of time dispatching the cupcakes on their schedule and have just now gotten into their schedules true difficulty. In the last two weeks, they played (at the time) #11 Mississippi State and (at the time) #5 LSU. Michigan was a distant memory. What pollsters now remember is that Alabama just beat a top-15 and top-5 and a "down" Michigan to open the season. Then they will play #15 Texas A&M this week, keeping their gauntlet going.
That's worlds different than Notre Dame leading off with "down" teams, making some noise against (then) #9 Oklahoma and promptly turning around to struggle against Pitt in the mind of a pollster.
The other issue is Notre Dame's preseason ranking in comparison to every other school now ahead of them in the BCS. Notre Dame started the season unranked in the AP poll and #24 in the coaches' poll to start the season. In comparison, Alabama was #2/#2, Oregon #5/#5, and Kansas State #22/#21. Teams that don't lose tend to hold their spots above those below them. This has held true all season, save for week 4 in the AP poll when ND found themselves ranked #11 after beating Michigan, managing to leap-frog Kansas State who sat at #15.
The next week though, ND went on a bye and Kansas State upset OU, launching them back above the Irish and have remained above them ever since.
Alabama, Kansas State, and Oregon have all been able to take advantage of these two issues to stay on top of the Irish. While a computer poll will reanalyze all data every week, the human pollster tends to take the previous week's rankings and applies the current week's results to them and adjusts accordingly.  Further, the computers don't take margin of victory into account by BCS rule and the pollsters are definitely focused on such "style points". To top it all off, every voter, regardless of how hard they try (and I'll toss myself in there from doing the HLS top 25 every week), has some amount of bias in their ranking.
To put it simply, our preseason rank hurt us, but, in the end, our front-loaded schedule is killing us. The Irish now have to hope to impress voters with some convincing blowout wins against easy opponents and make a lasting impression against USC that will stay fresh in their minds through the conference championship weeks.
It's definitely a tall order to say the least.
Here's hoping that our new partnership with the ACC, and other schedule moves allow for more flexibility, allowing the Irish to balance their schedule's strength across the season like the rest of the college football world has been able to.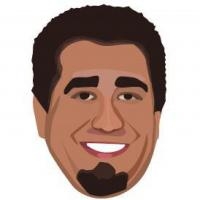 Latest posts by Ryan Ritter
(see all)