Much of the talk this past week in college football has centered around one central topic. If Alabama, Kansas State, Oregon, and, yes, Notre Dame remain undefeated, who goes to Miami to compete for the national title?
Schedules have been compared. Style points tallied. Tea leaves read.
Throughout all of the these activities though, one thing must not be forgotten: win. Every. Damn. Game.
Despite all of this talk of four possible undefeated teams, the odds of this college football apocalypse actually happening are under 2%. So, much like Matt Barkley winning the Heisman this season, not happening.
And sure, Notre Dame's schedule looks beyond easy in comparison to the gauntlet they just ran. On paper, it would appear that we have three easy wins, followed by a final test at Southern Cal.
However, college football isn't played on paper.
All three of those teams are sitting at .500 or below, but all of them would love to crush Irish title hopes. And let's not forget that Boston College is still on the schedule and they've had a great habit of stopping Irish undefeated streaks.
And of course, there is USC. Despite the troubles that they have had this season, after their own title hype died earlier this year, they are far from a pushover.
The Irish simply can't blink first. They can't look past any team, even one that lost convincingly to Youngstown State to kick off their season (Mark May must be proud).
However, this Irish squad has done that all season. Kelly has talked all season about not being "infected with success" and Notre Dame will once again have to prove their immunity this Saturday at home after one of the best wins this program has seen in over a decade.
So yes, all the SOS and resume talk is important, but the number one goal for the Irish is simple on their road to the title: Just win, baby.
The Roundup
Law & Order: Pitt. So Pitt's best offensive weapons just got charged with assault? LOLOLOLOL
Everyone that had this season as BCS or better, plan on collecting your winnings. Because there's quite a bit of leeway now.
A not so good result from last weekend: Marcus Lattimore. I feel for this kid, especially when they are just simply great human beings. And don't worry, that video doesn't have the injury. I refuse to watch it — I'm sure as hell not going to link it.
So just how are spirits at Auburn right now? Here's your answer.
I'm going to link this without really reading all of it. Just click, you'll see why.
Need some OU film breakdown? One Foot Down has you covered.
And to all our Loyal Readers out on the East Coast, stay safe out there. Thoughts and prayers are with you as you deal with Hurricane Sandy.
Put These Games on Your Radar
All of the undefeated teams in the title hunt are in action. It's nice to be seriously scoreboard watching in November.
#1 Alabama @ #5 LSU, 8:00pm EST, CBS – Twibby's Marquee Matchup of the Week
#24 Oklahoma State @ #2 Kansas State, 8:00pm EST, ABC -Don't sleep on Okie State. They tend to pull a rabbit out of their hat at least once a season. Also, this line is only at -9 for K-State right now. After their dominating performances, this seems rather low. Upset alert?
#4 Oregon @ #17 USC, 7:00pm, FOX – Another strange line. High powered Oregon by only -8.5? This is Oregon's first true test of the season as they will finally face a team that has an offense. You know USC is ready to start playing spoiler, especially after a horrid loss last weekend. Oh, and Gus Johnson.
Predictions
Tex
Mark May, you thought Youngstown State was a nightmare? Have fun with Lou after this one.
Irish 49 – Pitt 6
Biscuit
Genac This Pitt!  Pitt is in all-out, start from scratch rebuilding mode.  New coaches, new everything.  While last year was ugly that was so much about ND and so little about Pitt.  The boys are pissed about the week prior and take it out on the Panthers.  Genac!

ND Wins 27 – 17

 3 Leprechauns!
Bayou
Pitt stinks on ice. And on grass. ND wins this one 42-17 – Golson has his home coming out party. Pitt's D cannot stop our running game. Or we lose 13-10 on a 49 yard Pitt field goal with time expiring.
Twibby
Lou Holtz 27, Mark May 10
Grantland-X
This Pitt game prediction is a real wildcard. Uhhh give me 38-10 Irish.
Closest to the Pin Week 8
Grantland finally gets on the board by predicting the largest margin of victory out of all of us, plus having the largest point total for the Irish. Welcome to the club, kid.
Leaderboard
[table "" not found /]
The Beer
Reader's choice this week. I've had a hell of a week and I'm grabbing whatever booze will be by me this weekend.
What are y'all rolling with this weekend?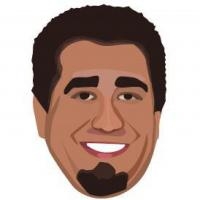 Latest posts by Ryan Ritter
(see all)