So Stanford, bet you feel all confident right about now. Sure, you've knocked off USC already this season (and then fell on your face to Washington, but we will forget that for now). And yes, you have won the last three years against the Irish.
But your Luck has run out and is now an Indianapolis Colt. Now you face a buzzsaw that is the Irish defense.
Spoiler alert: Trees lose to saws. Every. Damn. Time.
Before Andrew Luck became your personal touchdown Jesus, Stanford, we owned you. We beat you seven straight times as a matter of fact before 2009.
Ty Willingham is undefeated against you. Yes, Ty f'n Willingham — he even beat you 57-7 one season. That's all kinds of special.
Now, I'll give you some credit. You pulled yourself up off the floor from a Ty beating and eventually built up a good time a few years later. Nice work. I tip my hat to you.
However, you now have to face the fact that without your Heisman caliber QB, your offense is now ranked 85th in the nation. Even your once powerful running game has taken quite the step back, now ranking only 70th in the nation.
Your Haubaugh-led defense was once rather feared to, but he's gone and you are ranked 55th in the nation right now after you let Rich Rod tear you a new one. "But wait", you say, "our rushing defense is 6th in the nation", well, that's great, but your passing defense is 113th in the nation.
Now, Everett Golson hasn't quite set the world on fire yet at QB, but then again he hasn't faced a secondary quite as bad as yours. The Irish defense has to simply be licking their chops at facing an offense that is nothing like what it was last season.
I hope you enjoyed the past three years. I really hope you did.
Tomorrow afternoon, we break you.
Your destruction will be heralded by Lee Corso wearing a Leprechaun hat furiously hacking away at a tree…probably.
The Roundup
Trick Shot Monday continues to hit the big time. First, the Sportscenter Top Ten and now, it'll be a feature on tomorrow's ESPN College Gameday.
Decided schematic surrender! I think Weis has waved the white flag this season.
Speaking of Weis, the student newspaper he ripped last week (apparently for this cartoon) fired back. However, Weis couldn't help himself and had his SID deliver a face-to-face warning to make everything better.
Golden Tate, please tell me you were hacked. I don't want to believe that this is real:
So mad I didn't get Justin beiber tickets to the concert tonight. #losing #beiberfever anyone else going?

— Golden Tate (@ShowtimeTate) October 9, 2012
I'm sure Kiffin will be more than happy to answer questions on this. So Robert Woods may have failed concussion tests and still played? Oh that'll go over well. Tweet has since been deleted, but considering the hit and the aftermath this seems plausible.
South Carolina had more surprises than just an upset of Georgia. And this one was a lot bigger.
LSU doesn't have the chest for warm weather. Even if said weather is the exact same thing they have in Baton Rouge.
Apparently, no one learned our hard lesson from Freekbass. Oklahoma has stepped up to the plate of horribly embarrassing music videos.
I never thought MS Paint could bring me such joy. However, every week, I am proven wrong.
This is what the NCAA has become. They actually had to clarify using Instagram filters is within the rules after a previous release said otherwise.
Put These Games on Your Radar
#3 South Carolina @ #9 LSU, 8pm EST, ESPN/WatchESPN – Twibby's Marquee Matchup of the Week
#15 Texas vs #13 Oklahoma @ Dallas, TX, 12 pm EST, ABC – The Red River Shootout — 'nuff said.
#5 West Virginia @ Texas Tech, 3:30 pm, ABC/ESPN/WatchESPN – I put this game on here because the spread is just so interesting. West Virginia is favored by less than a touchdown and Texas Tech has yet to really beat anyone. Last week, Tech lost to OU and West Virginia won a shootout with Texas. I'm wondering Vegas knows something the rest of us don't. I don't want to say upset alert here, but who knows.
#11 USC @ Washington, 7pm EST, FOX – USC heads out on the road again against a team that managed to pull a nice upset of their own against Stanford, and, yes, Stanford beat USC. Will the transitive property of football hold?
Predictions
Tex: Clearly, I am going wrong in my predictions by assuming opposing TDs. 24 – 9 ND
Biscuit: 14-10 ND, Via
Bayou: 24 -9 Irish (Note: No, Bayou and I had no idea what each other's predictions would be, promise)
Twibby: Irish 31, Trees 17
Grantland-X: 27-17 Irish
Closest to the Pin Week 5: Bayou was the only one to predict a true blowout, giving him victories two weeks in a row. Leaderboard:
[table "" not found /]
The Beer
We will be taking a different direction with the beer selection this week and it isn't just to troll MQ.
This week, the Subway Domer seriously contemplated retirement from the blogging world. Thankfully, his wife vetoed the decision and Subway will continue to grace the ND blogging world in the only way he can.
I'm thrilled the godfather of the Irish Blogger Gathering is sticking with us. So in celebration, this one's for you, Subway: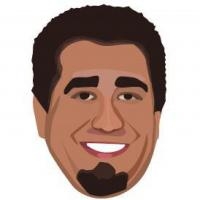 Latest posts by Ryan Ritter
(see all)