As always during Hate Week, we at HLS have been spewing a good load of Michigan hate. The IBG was focused on it, and Bayou gave some great historical context as to why Michigan deserves our hatred. Inevitably, the open letter from Blue-Gray Sky (RIP) to Michigan's fans finds itself linked on at least one Notre Dame site as well.
But this week isn't just about hate, it's about vengeance.
And no, this isn't vengeance for a prank pulled by Skunkbears. If we get worked up about Denard's future burial shroud being put up on the stadium, our focus is already off.
No, this is about three years of watching ND fall to Michigan by four points for three consecutive years, culminated by the most inexplicable combination of absurd luck for Michigan coupled by a complete meltdown by the Irish defense in the last thirty seconds. In fact, all three of those games featured Michigan game-winning touchdowns with less than a minute left. We've managed to make Tate freakin' Forcier look like a stud and Denard Robinson look like a Heisman frontrunner.
Saturday it ends.
This is easily the biggest game in years and the Irish simply can't let up on the gas now. As great as this 3-0 start has been, a repeat of the past three years can undo it all. The "signature win" against Michigan State turns into "Notre Dame can't get it done when the spotlight is on them", leading back to the all too familiar "here we go again" mentality that we've had to suffer through for years.
It ends Saturday. It ends when Manti Te'o, Stephon Tuitt, and the rest of the Irish defense bring Denard back to earth. It ends when the Golson-led offense continues to put it together (and most importantly doesn't turn the ball over five times).
Plus, this guy is still on their team:
It's time to kick some Skunkbear ass.
The Roundup
Speaking of people we hate: Lane Kiffin. He decided to storm off from a press conference thirty seconds after it started. USC's policy forced the question to be muted, but, thankfully, the exclusive audio has been released.
Also adding to my rage: Penn State. Ok, to be fair it isn't all of Penn State, but the fans that just won't let it go.
There was a "football" game last night. I use the term loosely because this actually happened, this ended up being the game winning TD, and BYU decided to go for two and failed to lose 7-6. I don't even…
This whole Arkansas experiment isn't working out so well. Their season is quickly becoming a disaster, which isn't so good for Johnelle who might just need the job.
I suppose this is one way to show support for our allies. The Navy Midshipmen salute South Korea…by going Gangnam Style. I feel like we have the makings of a Top Gun sequel here, you guys. (Related: make sure you see the Oregon duck take his shot at this)
Games to Put on Your Radar
Sadly this week is heavily loaded in the primetime schedule. For those not attending the game, you can spoil yourself with some great games.
#10 Clemson @ #4 Florida State, 8:00pm EST, ABC – Twibby's Marquee Matchup of the Week
#15 Kansas State @ #6 Oklahoma, 7:50pm EST, FOX – This is Oklahoma's first true test (if you don't count their close call with UTEP). It'll be interesting to see how this one shakes out.
#22 Arizona @ #3 Oregon, 10:30pm EST, ESPN/WatchESPN – Once the ND game ends, use this as your victory nightcap. It's Oregon's first real test, plus a shot for RichRod to prove that his team is for real or just show that Oklahoma State is really awful and that upset meant nothing.
Predictions
Tex: I originally thought this game would be close…but 'eff that. There is too much to avenge here, plus the atmosphere is going to be rocket fuel for the entire team to rally around Manti Te'o. RIP Denard. 31-10 ND
Biscuit: Screw those Dancing Leprechauns!  ND Wins 23-21!
Bayou: ND 27 scUM 17
Twibby: Denard's run of breaking my heart comes to an end this Saturday.  The Irish dont put up 500 yards like last year, but they also don't turn the ball over 5 times and DO turn around and look at incoming wobbling duck passes. ND 31 – Michigan 21
Grantland-X: We absolutely stomp Denard this time around – 34-13 Irish
Closest to the pin – Week 3: Bayou was the only staff member to predict any serious margin for an Irish win, so he gets the glory. He joins both Biscuit and myself on the leaderboard.
The Beer
Reader's choice.
No, I'm not doing a lazy cop-out — hear me out.
If you are attending this game, I want you to tailgate with your favorite poison of choice. I want you to consume loads of it. I want that stadium so loud that when I walk out my ears are ringing. Hell, if you aren't at the game, I want you to be the loudest fan in the bar. If you are staying at home, I want the neighbors to hear you.
And while Her Loyal Sons are marching onward to victory I want you to enjoy whatever you consider to be the sweet nectar of life in celebration.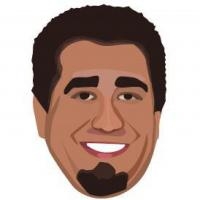 Latest posts by Ryan Ritter
(see all)