Initially, I was going to have a bit of fun in the Roundup at Purdue's expense. You know, the usual HLS bit, plenty of the Irish will "beat them like a drum" puns, Purdon't and Purduzzzzzzzzzzz mentions — the whole nine yards. Yesterday though, something else happened that made me decide to change the direction of this piece.
Notre Dame called out its own fans.
It was a move that is both sad and sorely needed. For far too long, Notre Dame Stadium has been host to an environment that is beyond detrimental to fans trying to cheer. Tales of ushers kicking fans out for nothing more than cheering and standing have become far too commonplace. It has gotten to the point that even Jack Swarbrick is sick of it — tired of hearing that opposing teams love to come and play in the House Rock Built.
Forget shaking down the thunder or waking the echos, Notre Dame Stadium more often resembles a museum.
It hasn't been the fault of the students either. They may only comprise 10% of the stadium, but year in and year out they stand the entire game and scream and cheer as loud as possible. It's time for the rest of the stadium to follow. Most importantly, it is time for Cappy and his ushers to stand down and let fans be fans and by all accounts it seems this could actually be a reality.
While we've heard some rumblings here at HLS that the ushers might receive new marching orders, there wasn't a whole lot to back that up. However, Swarbrick going to the press, the official ND blog breaking the "Take a StaND" campaign, and even Brian Kelly making sure said post hit his Twitter feed (as did many other official accounts), sends a clear message that the expectations are going to be different.
So Loyal Sons (and Daughters) that will be in attendance tomorrow afternoon, take your staND. Don't use this as free reign to give fans glued to their seat and ushers hell, but use it to back up your right to be a fan. Stay respectful, but stay loud.
For any fan that might be reading this who falls on the other side of the equation, I have a plea for you as well.
The Roundup
Texas A&M has brought their A-game. First they troll Florida via billboard and then they craft one of the best previews ever.
And Cincinnati brought their WTF game. Seriously, what is this?
In case you needed some more reasons to be happy college football is back, I have some more: great tailgating food and this.
Please, please never stop MSPainting Like a Champion. Ever.
You can never have too much X's and O's analysis, so here's some more.
Just in case you weren't already jealous of everyone that went to Dublin, this will probably do the trick.
Put These Games on Your Radar
Not a whole lot of great matchups in week 2 thanks to awful scheduling, but we do have a couple of games that stand out.
#7 Georgia @ Missouri, 7:45pm EST, ESPN2/WatchESPN – Twibby's Marquee Matchup of the Week
#24 Florida @ Texas A&M, 3:30pm EST, ESPN/WatchESPN – Call this morbid curiosity of Florida's potentially awful offense paired with Texas A&M debuting in the SEC.
Predictions
Tex: 42-21 ND
Biscuit: 21-17 ND
Bayou: 60-17 ND
Twibby: 41-17 ND
Grantland-X: 38-14 ND
Closest to the pin last week: This was close as three of us predicted 42 points for the Irish putting us just within 8 of ND's total. However, one person hit Navy's score dead on and that was yours truly. Better luck this week, y'all.
The Beer
Considering that both teams on the field are from Indiana, I decided to go with a brewery located in Munster, Indiana: Three Floyds.
I originally learned of this brewery on a road trip to a ND game right after I graduated. One of my best friends heard about it and we made a detour there for some food and brews. Best decision ever (also, I have awesome friends). You really can't go wrong with any of their brews, but if I have to pick one, I'm going with Gumballhead:
However, one of these days, I need to partake in Dark Lord Day as I have heard wonderful things about that brew.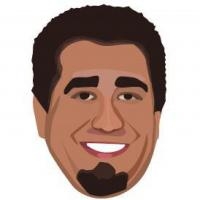 Latest posts by Ryan Ritter
(see all)