So since we seem to be recalling some of our favorite memories of the Weis era the past couple of weeks, I figured that now would be a good time to cash in my promise of letting everyone in on stories from my time as a manager.
This week, we dive into the art of the trick play.
Weis made a point to have at least one trick play up his sleeve every week. Some were simple and were just more complex versions of a play-fake that you'd likely see and not think it was actually a trick play. Others, however, were true gimmick plays that were so off the wall that no one would see them coming.
My favorite of these plays was never actually executed during a game, but was practiced during Tennessee week. The play was "OH SHIT! Screen Right"–no that isn't a typo.
Many of us know Weis loved the screen, but this one was a particular stroke of genius that was also unbelievably hilarious in both its simplicity and execution.
The Irish would line up with Anthony Fasano to the left. After the snap, Fasano would run a drag route across the line; however, once he got to the center, he would intentionally trip himself, fall down, and yell "OH SHIT!!!"
The defenders would then ignore Fasano while two offensive linemen crept up right in front of him. Once those linemen were in position, Fasano would pop up and receive an easy pass from Quinn. At this point, the defense that completely ignored him now had to find a way around two big uglies and Fasano barreling down their throats.
Sadly, the Irish never had a need to run this play against Tennessee and quickly tossed the play the following week. However, for all the talk that Weis had about a "decided schematic advantage", this play would definitely qualify.
I won't lie, if Kansas somehow pulls this out of their hat, I will have a small celebration in honor of this play actually seeing the light of day.
The Roundup
Need an excuse to go to Vegas? The undefeated Mike Lee will be fighting on August 4th at the Texas Station Casino. Should you not be able to make it out to Sin City, the fight will be televised on Telefutura. Now, being Mexican and from Texas, this fight screams all kinds of good mojo for me. Also, if you've never watched a sporting broadcast in Spanish, you should–knowing the language is not a prerequisite to enjoying it.
Les Miles finds his way into the Roundup yet again. This time, he is angered by his own mascot finding a QB that is far better than the disaster he fielded last season.
So, Notre Dame isn't the only school with an embarrassing video. Just ignore the video-that-shall-not-be-named and revel in the fact that there are far worse things that other schools have published on YouTube.
Johnelle might need a few bucks. Seriously.
Law & Order: The Isaiah Crowell Special. First, he melts our hearts by showing his commitment to Georgia with a baby bulldog. Then he's caught packing heat and runs to the FCS.
One Foot Down finds a way to make me sad about the Lou Holtz Era. Couldn't we just skip this particular trip down memory lane?
When I was a manager, I had to memorize this and more. Subway Domer has all your freshman roster assignments–study up.
The Beer
This week will be the first week that I recommend a beer that I have not yet tasted. Thanks to the magic of Twitter, @okerland suggested that, based on the heels of last week, I examine Sam Adams Porch Rocker.
While discussing the beer, the Sam Adams Twitter account chimed in as well:
@okerland @HLS_NDtex Technically it's a radler, a German style beer which takes a Helles style brew and blends with fresh lemon juice.

— Samuel Adams Beer (@SamuelAdamsBeer) July 2, 2012
Another American themed beer that tastes like lemonade on the heels of the 4th? I'm all in.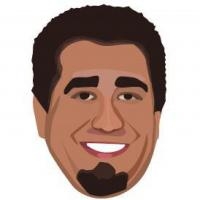 Latest posts by Ryan Ritter
(see all)