Welcome to the first edition of the HLS Pre-Snap Read!
This post will be a new weekly gameday staple at Her Loyal Sons to complete the gameday hype that we've built up throughout the week.  The goal is to give you as much Notre Dame material as you can digest leading up to kickoff as well as highlighting some other major stories and games around the world of college football (and tossing in some needed hatred for certain opponents).  Since this week is a bye, this inaugural edition will focus a bit more heavily on everything else going around in the college football world.
We will still have the open thread for gameday in the Sideline forums, but this should give you a nice bit of reading as you await for the day's games to start.
One of the things that I will make sure to do every week is to link all of our material from the week.  So if you've happened to miss a few days or just happened to stumble upon us for one reason or another, you have everything readily available.
Outside the ND Bubble
As I stated before, if there is some big news in college football, I will be sure to recap it here.  To start, let's take a look at the week 'Ol Ball Coach had.  First, seemingly out of nowhere, Spurrier decides that it's time to ban local reporter, Ron Morris, from pretty much anything concerning South Carolina football:
Apparently this was for an article that the guy wrote months ago, but to make everything even more off the wall, news soon broke that Stephen Garcia was dismissed from the team.  Garcia was one of those "I'm sorry I'm not sorry for partying" kind of guys.  Spurrier put up with not one, not two, but five suspensions of Garcia (the first of which he got before his first spring practice, impressive!).  Not to mention this all seems highly suspect that Spurrier finally "had it" after Connor Shaw lit up Kentucky as the Gamecocks new QB (DMQ was rather astute in pointing this out in the Sideline as well).
Whatever the reason, my lasting memory of Garcia, and his legacy in my mind on the field will forever be this:
Next up, Biscuit's conference realignment plan might not even be needed for ND as the Big East offered invites to Boise State, Air Force, Navy, and UCF.  The schools would join as football only members, with exception of UCF who would basically be TCU's replacement.  ESPN then later reported that SMU and Houston were also in the mix as full time members as well (replacing Pitt and Syracuse). Reports thus far say all the schools but Navy seem genuinely interested, but either way, I would say this move stabilizes a Big East that was on the edge of extinction.
With these additions, plus the fact that Pitt and Syracuse can't leave until 2014, the Big East looks to be in fine shape until the BCS contract expires in the same year.  Bottom line for ND: independence is safe for now.
However, that wasn't the only conference realignment move that went down this week.  While the news of the Big East invites broke, the Mountain West and Conference USA decided to form a football alliance, effectively forming the first super-conference at a ridiculous 22 teams (although it could likely be 18 should Boise, UCF, SMU, and Houston all leave).  The goal for the Mount USA or whatever we will call it (so sad we won't have the Sun Beast instead…), is to separate into two divisions and have their own championship game, pending NCAA approval of course.  Their end goal is to try and get a BCS AQ bid, and with everything being so crazy, who knows what will happen there.
Either way, the conference realignment crap needs to slow down because I have too much actual football to worry about.  However, I must admit, it is hilarious that our first true super-conference comes in the form of non-BCS members.  Your move, WAC and Sun Belt.
Finally, if anyone had any hopes of the NCAA hammering Auburn for the whole Cam Newton thing, you will be very disappointed.
Games to Watch
In the future I plan to highlight some big games here, but to be honest, DMQ already did a fantastic job on this, so check that out.
So this week, I can only offer a solution for Irish fans that are having problems figuring out who to cheer for when the Skunkbears take on Sparty in East Lasning. To be honest, it really isn't hard to figure out where your loyalties should lie:
Enjoy the bye week folks, and remember, it's never too early to start your USC hatred!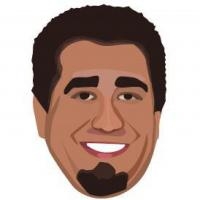 Latest posts by Ryan Ritter
(see all)