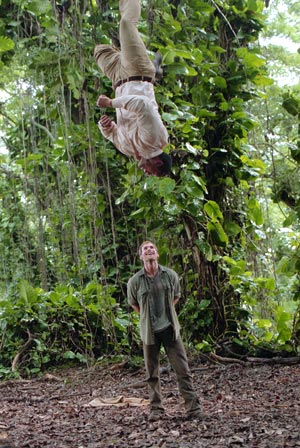 Cah-caw Cah-caw!!!
I actually liked this movie as a Saturday-TNT-and-nothing-else-is-on-distraction. BK will berate me for it, I don't care.
But this really just a run-down of stories. I've been off working to actually make some money, so I haven't had a chance to post much, and I'm just too lazy to do this all separately, so here we go.
BC Bitches
What a whining little baby. Gunnell has a career day against a horrible pass D, and Clausen wants to shake hands, and he cries about it. Little Girl, you lost. Get over it. Punk.
Clausen on the incident:
"To be honest I was just going up to him to say he's a heck of a receiver and if you saw out there, he was making plays left and right, and he's a real good talent. I was just going to say good game to him, and he was just a little frustrated I guess. I was just trying to say good game to him."
Clausen shouldn't have pushed him, but Gunnell shouldn't be getting in a dude's face after a loss either.
More Smoke. More Smoke. Mooooore Smoke.
Not surprising at all, in any way, but RR is under investigation. Least shocking news ever. This guy is a scumbag, plain and simple. Perfect for Michigan. Which Sucks.
Of course, this means literally nothing as USC has proven time and again.
Givonanni is not an Irish Name, but He is 100% Irish
Love bringing in another solid, talented at halfback, to pair with Roberson in this class.
He also adds another dimension as a committed player, as he can help recruit a few other high-priority guys for ND in Linder, Riggs and Joyner, teammates of his at Aquinas. Bringing in 2 or 3 of those guys would be HEE-UGE.
This wraps up RB recruiting for the year after a decent class last year. Spots are filling up quick, as ND has 17 – but we can take up to 27 with EE's and still be under the schollie limit. Hoping that we get close to that. With a solid finish to the season, it should happen. Another good article on "Gio", highlighting his character and grades. Looks like a ND guy through and through.
ND's Defense Improves. Kinda.
The pass D is still horrible. I'm not sure how many times BC converted on 4th and 8, but it felt like 9 out of 10 last week. But the D stymied a solid BC running game, and came up with big INTs when most needed.
Still 100% confusing is the play of Harrison Smith. A great talent, and seemingly smart Safety, dude was burned left right up and down last week, and on most of the plays it was 100% mental. You can just see the guy thinking, hestitating, starting in the wrong direction and then it's too late. Something needs fixed here, and moves are in place. Smith has been dropped to 2nd string, after a move to SAM LB, with Fleming. (Yeah, I know it says co-starter, but who really believes that?) In the mean time, McCarthy the Elder moves to Free Safety from Strong, with McCarthy they Younger backing him up, and Sergio Brown takes over SS. Brown is athletic as hell and made some plays Saturday. While I liked Kyle at Strong, it makes sense to get the more experienced guy in the FS position, and hopefully it won't hurt his performance. Since he's been so freaking dependable, I doubt it will. And really, it's not like things could get much worse back there.
Lost in His Losing and Attitude Perceptions is the Fact that Weis is a Nice Guy.
Weis doesn't have to befriend a kid with cancer. He doesn't have to pass right. He doesn't have to start Hannah & Friends. He doesn't have to do any of this stuff. But he does. He's not an amazing coach, and he's gruff with the media, but deep down Weis is a good dude. His friendship with Herzlich is another example of this, and it was nice to see the kid get an honorary jersey on Saturday. Classy, unlike Gunnell.
The Floydinator.
My guess is he's back a week from Saturday. Sweet.
Go Irish!
Latest posts by The Biscuit
(see all)