Typically, this space is reserved for highlighting the best news stories that I came across over the week. But something happened this week that changed everything.
Sports Illustrated has been an absolute staple of sports media since even before I took my first breath in this world. My parents purchased and SI Kids subscription. I had an SI subscription until I had had kids myself and ran out of time to read it like I once did. Despite that, SI never lost it's spot in my heart.
Then, on Thursday, news broke that 50% of all SI staff would find themselves laid off. Not only that, but this layoff was delayed because paperwork wasn't quite final. All the SI staff took a Hail Mary attempt to #SaveSI via petition, but they still found themselves Thanos'd at the end of the day.
Why did this happen? Simply put, Sports Illustrated was bought out. That company has a wing called "The Maven" which has been reaching out to bloggers and writers with the following offer:
Having been in this space for some time, let me translate the above for you. Sports Illustrated's parent company sold out. The new parent company has something similar to a blogger wing and have staffed that with independent contractors that are paid less than the SI staff is today. So they cut the expensive staff, and suckered in the new folks at a lower pay-grade to save a few bucks and boost their bottom line.
TL;DR: the new parent company is taking this Maven bullshit, and trying to use the value of the Sports Illustrated brand to build it into a more profitable entity that is cheaper to run.
This is particularly head-scratching because the Meredith Company, the parent of Sports Illustrated, owns the Fansided network, an SBNation-like content farm consisting of a flagship site and individual team blog sites that could absolutely serve this purpose. The only different between Maven and FanSided is that Maven looks to have slightly more recognizable names from beats and recruiting services.
Full disclosure: I used to write for the Fansided mothership. A high school buddy of mine said they were looking for someone to write about the WWE (pro wrestling) and I took up the call. I ended up writing for Jack Crosby who has appeared on our podcast multiple times. I enjoyed it, but ultimately, it was too much work along with HLS, my day job, and starting a new family. So I tapped out.
I got paid. It was decent. There's no sour grapes.
Even further disclosure, FanSided nearly acquired HLS a few years ago. It didn't work out, but it was an offer that was absolutely considered until hitting a couple show-stoppers in negotiations. Again, no hard feelings there. Everything was 100% amicable.
I say all of this, because The Maven is trying to be some kind of "higher tier" content farm. Full stop. That's what FanSided was. I fully recognized it before I hoped on board.
So when I saw a certain well-known ND premium site beat writer made the jump to Maven to cover the Irish, I checked it out. Immediately after, I wondered what in the hell kind of value it brought to the SI brand over the FansSided sites. I saw little difference.
And that's what Sports Illustrated is now reduced to by their new overlords: a potential referral farm for cheaper labor. Lost now is any semblance of caring about actual journalism. They are a line item on a spreadsheet.
I thought about going through every laid off writers work and highlighting stuff that they wrote. However, I'm not doing it. I can't ask you to click a link and feed ad impressions for a parent company that only cares about funneling SI traffic into their pet profit project. Not only that, I feel weird asking you to click on work created by people that will no longer get compensated for their efforts.
I'm honestly not even sure how to fully handle this situation. Friend of HLS and multiple-time guest of the podcast, Jess Smetana, still holds a job at SI. I certainly hope you continue to support her work, like this piece on ND's leprechauns, even if it still lines the pockets of shitty overlords. There are still people around SI like Jess that have loads of talent that should be supported over the click-farm that is whatever the hell the Maven is.
At the end of the day, this entire situation has me thinking about the sports media landscape as a whole and the role that blogs like HLS have played in it.
There have absolutely been periods of time in which HLS has "played reporter" for lack of a better term. It's not that we couldn't do it, but when we did, that voice was one of many voices saying the same damn thing. It's part of why we took a step back here and tried to get back to the "blog roots" of the site. For us, it's just a lot more fun to be fans, react like fans, and, quite frankly, do sillier, off-the-wall things to provide a completely different kind of coverage to the team you love.
I fear that too many corporate overlords see hobbyist and part-timers like us and think "hey, that's a cheap source of labor!" and can provide content that people will find "good enough" to click on and make some profit. No hate to the people that take this challenge on, absolutely get yours if you can. I know damn well it's a grind and if you profit off the hustle, more power to you.
But from where I sit, blogs play best when we can give an alternative voice. We are a complementary part of the journalism ecosystem, not the primary cog. The more that we are shoved into the spotlight, the worse it is for everyone.
Pieces like the Friday Roundup exist because I can highlight a bit of everything: the beat, hard-hitting journalism, and the blogs.
But the Maven is actively trying to cut one of the legs off that stool. It's an absolute shame. The entire business plan is foolish and short-sighted. It will effectively kill what SI has been for decades.
I can't support such a maneuver. Apologies to anyone employed by that outlet, but I will never click or link to your work. I refuse to support a predatory practice that is looking to max/min their spreadsheets and pretend that people's livelihoods are like a piece of virtual video game gear to be discarded at the first sign of sup-optimal growth.
Further, I refuse to link anything this week in the Roundup. While I have a feeling that I'm preaching to the choir, pieces like the Roundup and sites like HLS don't exist without the professionals doing their thing. I know my place in this sports media circle of life and I'm not going to pretend that I can supersede it.
This is a glimpse of the sports media landscape that you could be living in if you don't see the value of supporting publications busting their asses 24/7 instead of chumps like me doing this for the fun of it.
Support your local beat. Support the national beat. Pay for work that has value.
It doesn't just support the people that are doing the sports media thing for a living, but it also helps sites like HLS.
There can be no alternative voice without a primary voice.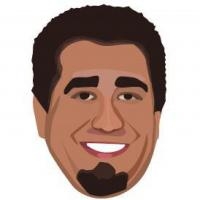 Latest posts by Ryan Ritter
(see all)