If you've watched any amount of college football this season, you've seen them. AT&T's "OK Boy Band" lip syncing a hook to a fake song that you probably don't want to admit becoming an ear-worm.
It turns out the fake band has a name, 300 Likes, which I discovered because their fake song, "Summertime Lover" released as a full-blown song last Friday.
I've been wanting to write about the most hated/loved commercial of this football season for some time now. However, I don't want to talk about the band, the song, or the fact that the dude squatting in the lower-right corner doesn't even bother moving his mouth. No, this Roundup is dedicated to my hero, my spirit animal, the clueless dad:
Clueless dad makes this commercial for me. Every. Damn. Time.
My kids are still incredibly young, but my oldest has already put me in some clueless dad situations. For instance, he will excitedly detail some random show I've never heard of, and I will desperately stumble around the conversation trying to remain interested, but more importantly, not called out on my bullshit that I don't have a damn clue what he's talking about.
Every parent ends up running into this at some level, which makes clueless dad the damn best. He's put down his hard-earned American currency so his daughter be front-row for one of her favorite bands. He's even wearing a freaking button featuring one of the guys to support his kid's interests. In short, he's ready to do everything he can to make sure this night ends up a favorite memory for his daughter.
But as soon as the show starts, disaster strikes. The band isn't dancing, the screams turned into shocked silence, and clueless dad sees his poor daughter's face flash a look of pure horror. So clueless dad does what any dad tries to do when shit 100% out of our control goes awry: attempts to fix it.
The success rate for all dads attempting to pull of this maneuver is 0.00%, rounded up. Clueless dad is no different. If the guys aren't dancing, clearly it's the job of the audience to get down, and by God, he's going to make sure this party gets going and save the day.
Of course, he's the only poor sap trying to salvage the disaster he's walked into. Mere seconds after trying to get the dance party started, he's greeted with the new horror that he's made a fool of himself. The only saving grace is that his own kid is still too dumbstruck with disappointment to notice because, honestly, that's the only opinion he cares about–to hell with everyone else.
The hard-earned American currency might as well have been lit on fire. The concert is an epic disaster. Regardless of what happens from here on out, the night is likely ruined for his kid, which is worse than the hit to the bank account.
But dammit, like fans of a certain football team that keeps breaking our hearts, we can't help but to keep trying to salvage joy of a terrible situation. In a way, we're all clueless dad.
You're my hero, clueless dad. Never give up. Keep dancing.
The Roundup
Note: Some links require a subscription to the Athletic and are marked with ($). For 40% off your first year, please use our referral link.
Here's an unexpected use of the new four-game redshirt rule. Houston's star QB, D'Erik King, will sit out the rest of the season, along with senior WR, Keith Corbin. King's father says it's the first step of a transfer, but Houston's official announcement has both King and Corbin stating they will remain in Houston.
NCAA says something dumb: part one million. Mark Emmert has called potential new image & likeness laws, aka allowing the Olympic model into college sports, an "existential threat"–which is a hell of a thing to say considering North Carolina literally tried to undermine the entire academic side of student-athlete and sexual abuse ran rampant at Penn State and Michigan State. But no, this is the bad thing. Got it.
Maybe don't ask about internet rumors during a conference call. I mean sure, Gundy blew his stack a bit, but this was just a terrible idea.
Kinght's Watch + Murder Smurfs. Coming in 2021 and 2023. Let's. Get. Weird.
I think The Athletic owes us some #snacktalk royalties. This week, the CFB section of The Athletic was full of articles about the intersection of college football and food. My two favorites, a top 25 food ranking by Andy Staples ($) as well as a look on how the NCAA deregulation on food budget (hey they do so some good things on occasion!) has had a positive impact on programs and athletes ($).
Time for a daily dose of #sportsmath. The stop rate rankings ($) are back, which can be a fun read if you feel like you are feeling too confident about Notre Dame's defense.
Look, Skycam wasn't a failure. NBC wants to make sure you know that it's sticking around and they will do better. Promise!
With Virginia coming into town, it's a good time to remember Malik Zaire. After an injury that derailed his CFB career, Zaire is finding his stride over at CBS ($).
Opponent Watch
Remember the sad Virginia fan? Of course you do. Go catch up on what he's up to.
How do you build a school like Virginia into a competitor? Well, hiring the right athletic director is a good start, especially one that knows her way around schools that know how to compete in football ($).
So Virginia has a bit of a streak going. Four weeks, four players named as ACC Players of the Week.
If you want a good primer on Virginia's season so far, I would suggest this read. My two cents: sounds like a lot of ND teams that created constant heart attacks in every game, yet somehow put winning records together.
A Special Look at Michigan
It's not just Notre Dame fans trying to dance on Skunkbear graves. The natives are starting to willingly dig them.
Any Michigan loss, brings out a good 'ol Mike Valenti rant. His opening segment on Monday was art, calling them a regional program. He drove the dagger in even further on Wednesday wondering why in the world Michigan bothers to expect titles when they've never won them to begin with.
So who had "Urban Meyer has to address Michigan coaching rumors" on their bingo card? Yes, he actually had to say there is no way he'd come out of retirement to coach Michigan. How did this happen, oh just some beautiful degeneracy: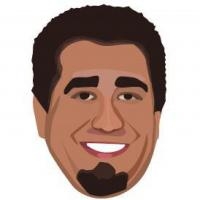 Latest posts by Ryan Ritter
(see all)