One of the things that I've enjoyed the most in the past couple of years here at HLS has been our focus on our crazy little community. Case in point: @frsorinramblers whom you will find on Twitter, our Discord, and our Twitch Channel.
During our Hot Dog Bye Week podcast, this Loyal Reader revealed that he would spend his bye week Ubering around Ann Arbor during Army/Michigan weekend. Here's his playlist:
For those keeping score at home, that's Army's Fight Song, The Irish Tenors, "Here Come the Irish", and the Rudy soundtrack. There's trolling Michigan and then there's this next-level, real-man-of-genius moment.
I can only imagine the stream of reactions from Michigan fans as they climb into his car and slowly realize the personal hell they have entered. May his Uber rating rest in peace.
As someone who steers this entire site straight into not just the silliness of college football, but also the pettiness and trolling opportunities it offers, I respect the hell out of this effort. Further, I hope his final Uber ride is given to a group of Army fans still buzzing over an upset over the damned Skunkbears.
The Roundup
The misery index is always a fun read, but typically you don't see "how is this school a festering corpse?!" in week 2, but I guess Tennessee was just willing to jump on that grenade.
Another fun weekly read is the "top whatever" column. However, I think we can keep the absurdity of Hugh Freeze coaching from a hospital bed at #1 forever. It's all downhill from here–UPDATE: maybe this dumb ride will keep going.
The silly season of the coaching carousel is always a wild ride. But Tom Herman/Coach O saga a couple of years ago at LSU was a damn rollercoaster.
Ian Book is a unicorn. Maybe not the thing you expected to hear from anyone after his performance against Louisville, but he's a part of a ever-shrinking percentage of college QBs that actually bide their time before they win the starting job.
Notre Dame did take a hit in one poll. Anxiously awaiting a certain subset of fans that trash #sportsmath to now point to the SP+ as the one true poll that actually reflected ND on the eye test.
Bill C had some other non-stat stuff that you should read. This piece is basically a national primer to some of the biggest storylines for various teams around college football and how week 1 affected them.
I think I have a Beaver correspondent now. Had another line dropped about Oregon State's next game against Hawaii. It will be aired on Facebook Live; however, no one is quite sure exactly where on Facebook it will be. Regardless, my bet is the answer is "in more homes than the Pac 12 network."
Offer this kid a scholarship immediately. The all-name champion is here and I don't know how you top this.
Get me back in school. Notre Dame is offering a course discussing The Good Place. Can I take this online? Please?!
#snacktalk has reached epic proportions. Little did I realize our silly podcast would set off a seismic event of a Rudy parody done by KFC, featuring both actual Rudy (meh) and Sean Astin (YAY!). Not only does this fever dream exist, IT'S AMAZING.
Opponent Watch
Number of former ND coaches to roam the opposing sideline: still zero.
If you've ever wondered how Southern Cal has ended up in their current state, you should absolutely read this fascinating piece about the booster that is likely responsible.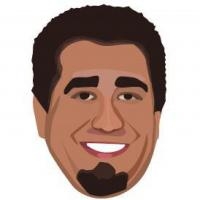 Latest posts by Ryan Ritter
(see all)