The stars have aligned for this Irish Texan. Notre Dame has found their way into the playoffs and into the Cotton Bowl right in my backyard.
Those of y'all that have been reading for some time know that I'm a native of the DFW area. The only time I've spent away from here were my four years at Notre Dame. As such, I've been flooded with questions of where to stay, what to do, and where to go. With that in mind, I figured a little FAQ post would help out.
If you find any of this useful, you can send thanks in the form of donations to my Extra Life campaign which benefits the Children's Hospital Foundation in Oklahoma City. If you're curious as to why I do this, please check out this post on the CHF website about Aven, who I play and raise money in honor of.
You have two airports, which one should I fly in to?
Unless you are tied to some kind of airline loyalty program, fly into Love Field. Your stress levels on the return flight will thank you later. Security and navigation there is a breeze in comparison to DFW. Plus there's a Whataburger, Chik-fil-A, and a Moe's right in middle of the terminal which is just beautiful.
This does lock you primarily into Southwest Airlines (which isn't a bad thing, in my opinion), but Love also services Delta and Alaska Airlines at a handful of gates. Oh, and if you're worried that flying out of Love makes you take a BS connecting flight in-state first, don't worry about that, the Wright Amendment blocking direct out-of-state flights was repealed years ago and life has been grand ever since.
Do I need to rent a car?
YES. If you've been to DFW before, you know why. If you haven't, know that the game itself is in Arlington, not Dallas. There's lots of great things to do and see, but you're going to end up driving about 20-30 minutes minimum depending on where you stay and what you want to do.
Our public transportation system, DART, is a joke. There is some light rail that will connect to a few spots, but one of them is not the city of Arlington or anywhere close to AT&T Stadium. Yes, we have Uber, but everything is spread out, so be prepared for way too many rides that will cost far too much. A car rental will be far easier.
Oh, and depending on where you stay, you might consider getting a toll tag, even if you aren't by toll roads. For whatever reason, DFW created loads of toll express lanes to alleviate traffic and on a busy weekend it can probably save you a lot of traffic and time, so go for it.
Where should I stay?
This has easily been the most asked question. Let me give a tl;dr answer out of the gate: you're going to find a hotel room. DFW is huge and you're likely going to drive anyways so you're going to have plenty of choices and you will definitely find a hotel room. With that being said, I'm going to split up the answer to this question in a few categories that you may fall in to:
I want to be close to the game: Stay in Arlington. AT&T Stadium is off highway I-30 which you may also see referenced as Tom Landry Freeway (because we like to name our highways for some reason). Highway 360 and the George Bush Tollway (Highway 161) are also close connectors if you need some additional roads to help you out.
I want to be close to the game, but not spend a fortune: Surrounding cities within a 15-20 minute drive are Irving, Euless, Hurst, and Grand Prairie. Grapevine also isn't too far away as well.
I want a true Texas experience: Stay in Ft. Worth and don't think twice. The Stockyards are located there which is full of great food and all the Texas/Cowboy type stuff that you can dream of, including a rodeo that runs every Friday and Saturday night. There's also a Sunday "cattle drive" as well. You also have Sundance Square which is also full of great eats and bars that are all within a short walking distance. It might be pricey, but it'll be worth it.
I want to be by the team/official events: Notre Dame stayed in Ft. Worth last time they took a trip to Jerry World and a lot of the local ND alumni clubs had events around that area. If ESPN decides they are coming into town, they will set up shop in Sundance Square. I'd be surprised if ND doesn't set up shop here too. If you want to hedge your bet, that's my best guess. CRUCIAL UPDATE (12/3): Just got word that there is a decent chance the team may be in Dallas. Go me. Not confirmed, but I trust those that told me so I'm gonna at least throw it out there if this is important. I will update again when it's certain.
Update, the second (12/4): Notre Dame just emailed out some travel packages through Anthony travel. All of them are in the downtown Dallas area. From what I was told as of this morning, ND is finalizing athletic travel plans soon as they were scouting hotels today and tomorrow. ND Club of Dallas events, and ND's official events will be in downtown Dallas.
Wait, should I stay in Dallas at all? Beyond the above, there are several great reasons to stay in Dallas proper. The Omni Hotel is probably a flagship to stay at (plus the Owner's Box is a sweet sports bar), but there are loads of other fine hotels to stay at. Just expect anything downtown to be pricey, which is the downside. It's a more "modern" experience, but not the same big-city feel as something like Chicago. It's not bad/worse, just different.
I just need a bed: Again, you won't be short of options. The bigger question is "how far are you willing to drive"? Just be weary of toll roads and expressways if you didn't get a toll tag like I recommended.
Where Should I Eat?
RIP, your diet. There's loads of good eating to be done and this is far from an exhaustive list. I may end up editing things in here because there are just so many fantastic places to eat. Update 12/4: Keep checking back, I'm going to keep adding stuff in as I learn more about events and what's close to them, especially for after-partying/nightlife. As there's loads of options, I figured that would be an easier path.
Downtown Dallas Spots (Added 12/4)
Considering that things are shifting to the downtown area, I figured I'd add in some more Downtown-adjacent spots that aren't necessarily in the below. Most of these will be more expensive options as an FYI, but if you're gonna go all-out, go all-out.
Savor Gastropub – Really cool spot at Klyde Warren Park. Great selection of cocktails and I've never had an entrée here I didn't like. Pretty decently priced too for what you get.
Bullion – I've been here only once (and on my boss' expense account), but it's phenomenal. French cuisine that's absolutely first-class. The architecture of the building is incredible as well.
Meso Maya – Traditional Mexican (not Tex-Mex) that's a bit more upscale than the usual (not like Mesa, also below).
La Ventana – Taco window attached to Meso Maya. Probably the only place that I'll let serve me lengua other than my grandmother.
Saint Ann Restaurant & Bar – Another favorite spot for work trips, especially if we are hosting people for a game at the AAC just around the corner. Scallops and pork chop are my two favorite entrées here.
Truluck's – Fantastic seafood, especially if they still have stone crab claws available. This is closer to the uptown Dallas area.
Y.O. Ranch Steakhouse – Didn't have this on the initial steakhouse list because I think really shine in the other wild game they sell. The Wild Game Mixed grill is awesome, especially if you're up for something different.
Eddie V's Prime Seafood – The name says it all to be honest.
Bars in the area that I'm a fan of:

The Gingerman
Blackfriar Pub
The Standard Pour (cocktail/mixology specialists)
British Beverage Company (the home of ND Young alumni game watches)
Katy Trail Ice House
Steak
Bob's Steak & Chop House – Dallas, Grapevine, Plano
III Forks – Dallas, ask for "The Juice" after dinner, it's off menu
Pappas Bros. Steakhouse – Dallas
J2 Steakhouse – Lewisville
Perry's Steakhouse & Grill – Dallas, if you're in town on Friday, make reservations (dead serious) for lunch and order the $15 pork chop special.
BBQ
Pecan Lodge – Dallas (Deep Ellum). Pro tip: if you're going to order for a lot of people, you can skip the main line. In fact, just get "The Trough" if you have four more people and sample everything while also skipping the line.
Hard Eight – Coppell, Roanoke, The Colony. I literally had my rehearsal dinner at one of these.
Angelo's BBQ – Ft. Worth, true hole in wall! Some of the best ribs in DFW.
Riscky's BBQ – Ft. Worth (Stockyards)
Cooper's Old Time Pit BBQ – Ft. Worth, Right across from the largest Honky Tonk in the world, Billy Bob's Texas.
Winner's BBQ – Plano, another hole in the wall that's the go-to for my work lunches. "Prime Time" is like "The Trough" at Pecan Lodge. The G.O.A.T potato has every damn BBQ meat stuffed in it (including a rib!) and will feed you for your entire trip. My personal pick for best ribs in DFW.
Lockheart Smokehouse – Dallas, Plano, Arlington (In Texas Live! by the Ballpark).
Mexican
Joe T Garcia's – Ft. Worth, cash-only, limited menu of fajitas and enchiladas, but they have a larger brunch menu, best margaritas in DFW.
Mi Cocina – all over the place, get a Mambo Taxi and an Uber if you have more than one.
Gloria's Latin Cuisine – all over as well, including Arlington!
Mesa – Dallas, an upscale diamond in the rough, trust me on this one.
Blue Goose Cantina – Frisco, Dallas, Addison, Highland Village.
Uncle Julio's – All over. Order the chocolate pinata for desert for one of the most unique culinary experiences ever that's oh so delicious.
Tacos (Yes, this deserves it's own section)
Fuel City – Dallas, Haltom City. Yes, it's inside a gas station, and they are the best got damn tacos in town.
Torchy's Tacos – All over
Velvet Taco – Most locations in Dallas, one in Ft. Worth
Taco Diner – Dallas, Richardson, Las Colinas, Plano…offshoot of Mi Cocina.
Comfort/Southern/Just Damn Good
Babe's Fried Chicken – Roanoke, Carrollton, Frisco. BYOB, and any wait is worth it…just bring a Texas-sized appetite. Chicken fried steak the size of your face. Fried chicken orders are half a damn chicken. All sides unlimited and served family style. Unlimited biscuits.
Ida Claire – Addison. Upper-scale of southern cooking.
Prohibition Chicken – Lewisville. Bourbon and comfort food focus. There's even a speak-easy style bar here.
Twisted Root Burger Co. – All over, boozy shakes and incredible burgers that includes exotic meat options like buffalo, venison, and other seasonal rotations.
Snuffers – All over, great burgers here too, get some cheddar fries as well and RIP in peace, your cholesterol.
Fast Food
Whataburger – Also serves breakfast 24 hours a day. Breakfast: Honey Butter Chicken Biscuit or a Taquito. Any other time: Whataburger with cheese, any variety. It doesn't get more true Texas institution than this. CRUCIAL EDIT: I neglected to mention Spicy Ketchup. This was bad and unforgivable and I'm sorry. Thank the people that brought a NDN thread to my attention and hat-tip to HTownND for pointing it out. Anyways, get the Spicy Ketchup.
Taco Cabana – It's "fast" food as in it won't take more than 10 minutes or so to get your grub. Got lot of mouths to feed? Just drive through and get pounds of fajita meat. I've also gone just for tortillas for my own fajitas and tacos. Breakfast tacos are bomb too.
Rosa's Cafe – See above, save for breakfast, go to Taco Cabana.
Brunch
Bread Winners – Dallas. Be prepared to wait. Be prepared to not care once you eat.
Brickhouse Tavern & Tap – Grapevine, Plano. Yeah, sounds like a weird rec, but they have some southern-style comfort options that are incredible. Great brunch cocktail options too.
Champps Kitchen & Bar – Irving (Las Colinas). $1 Mimosas and brunch buffet with omelette station. They have a menu too, but the buffet is a great deal. Plus, watch some NFL while you hang out. Bonus: it's rarely crowded. Off-the-beaten path deal for sure.
Norma's Cafe – Most locations in Dallas, also Frisco and Plano. More breakfast (no booze, I believe), but if you're looking for a good 'ol fashioned southern breakfast, go directly here and do not look back.
Joe T Garcia's – See Mexican above.
I'm sure I'm missing things. This list got so damn long, y'all. It's really hard to have bad meals here. Oh and I have no section for bars because there are too damn many and you're going to find something for you. Trust me.
Are the local clubs doing anything?
They will be. No details yet. I will have a separate post for this (and link it here).
What's the parking/tailgate situation like? Are you throwing one?
Yes I am! It may be in conjunction with ND Club of Dallas, so stay tuned. I do have a parking pass already in hand and I'm going to smoke a ton of brisket and maybe some chili (made the way God intended: without beans). More details coming soon!
Parking around the stadium isn't cheap. $50-$75 is face value for the lots around Jerry World and that's if he doesn't hike them up. Secondary market is around there too right now, so hop on it if you see it.
That all being said, you can also use the Ballpark (aka Globe Life Park, where the Texas Rangers play) as well for around $40-50. There are also multiple lots around the area that will be cheaper and are right by, as in across the damn street from some lots, that will be closer to $30 and you can easily walk over. In short, only buy a pass if you hate walking or are planning on throwing a tailgate closer to the stadium.
Oh, also some local restaurants will do shuttles. Humperdinks and Sherlocks are typically the go-to there. Prices vary, call ahead to confirm they are doing them.
The question you won't ask but should: How hard is it to get in?
I'm not just talking about NFL clear bag rules or long lines either. Jerry World is a really strange stadium in that you really can't walk the concourse around the stadium. Your ticket will have a gate listed on it and you will be going to that gate. Not only will personnel basically force you too, but you probably can't get to your seat if you happened to be allowed to go in the wrong gate. Also, you probably won't even be told this if there's a big rush post-tailgate all at once, so scout it out before hand and plan appropriately.
The good news is because they did this, lines for bathrooms and concessions are actually pretty effective as everything is sectioned off. However, if you want to make sure you make kickoff, give yourself plenty of time. Especially because the ticket scanning system has been known to crash in the past and was the reason I walked in a got damn hour late to Wrestlemania when I went a couple years back.
The other question you won't ask but should: Should I bring in sunglasses?
What?! Dome stadium and sunglasses?!
Well, in the infinite wisdom of Jerry and his dumbass contracting team, they put glass windows on the west side of the stadium. Guess what happens in the west in the second half of a late afternoon kickoff? Sunset.
So if your seat is in the east side of the stadium, bring some shades so you aren't blinded while watching the game.
They spent over a billion dollars on this bullshit. BILLION.
How are concessions inside the stadium?
Above-average, but pricey. Buy enough over-priced beer and you probably will forget about the prices. Not that I'm speaking from experience or anything…
Any other questions?
I feel like this is the basics, but if I missed something, I'll monitor the comments to keep helping out.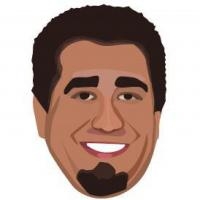 Latest posts by Ryan Ritter
(see all)