No, Shane and I did not drunkcast this episode. Eddie did.
After a nice, even-keeled look through the latest in college football headlines, Eddie came in with loads of fire. Fueled by alcohol and rage, this week's picks can only be described as a thing that was recorded on Thursday night.
But that's just the tail end of an hour-plus podcast which, of course, includes a look at Notre Dame taking on a Stanford team that isn't as good as you might remember them being. Hey, that kind of sounds familiar!
/looks in mirror
The Roundup
The sixth Mike has passed. LSU's famed live tiger mascot succumbed to kitty cancer.
LSU/Florida is back on. The location has changed and soon-to-depart Florida AD, Jeremy Foley, decided to take some parting shots at LSU for, apparently, making this process as difficult as possible.
And you thought Notre Dame fans got angry. Y'all got nothing on the SEC until you get arrested for calling your coach out for falling to 4-2 after losing to the defending national champs.
We now know why Harbaugh decided to murder Rutgers. The man just wanted a cheaper steak dinner. No, seriously, his team caused a massive discount and he took advantage of it.
Ruth's Chris & Buzz Goebel!Sarah, me & Ann Arbor thank U for being such good sports! Plus the Steaks are A++, Mercy! pic.twitter.com/7CiB8ZMuXy

— Coach Harbaugh (@CoachJim4UM) October 12, 2016
But, seriously, Harbaugh, milk?!
Joey Julius has nothing on this girl. Sure the rotund kicker has been leveling people and become a target for headhunting that leads to suspensions, but I think he's been one upped by Kelly Macnamara's best Rhonda Rousey channeling:
7-0⚔️? pic.twitter.com/E0GQonDe2Y

— Kelly Macnamara (@kellmac_) October 9, 2016
The "BK blames his players for everything" narrative took a bit of a hit. Not only are his players saying that isn't the case, but immediately after the loss, he squarely put the blame on himself in front of his squad:
Eddie and I actually got some picks right last week. Feel free to follow along as we see if rage and booze is acceptable in GAMBLOR's sight.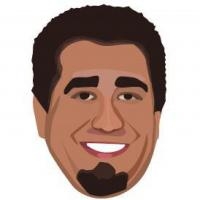 Latest posts by Ryan Ritter
(see all)