So what do you do as a podcast when you need to preview a game against a terrible opponent after a terrible loss? Well, Shane and I decided to bring you you the most incredible, hard-hitting, most in-depth preview for Duke possible.
If you thought that last sentence was truthful, you are going to be very disappointed.
Look, there really isn't much to say about this one and it's not for lack of caring or throwing the towel in on the season. This week all eyes are focused internally and just how Notre Dame will rebound after the disaster that was last week.
Of course, the usual news roundup and picks with EddieMac are here as well. Strap in and get your head right for another weekend of college football with us.
The Roundup
I would love to stop reporting crimes like this. I believe there has been only one week in which a sex crime hasn't been in the college football news cycle this season. This week, Indiana WR, Kiante Enis, has been charged with two counts of felony child molestation for an admitted sexual encounter with a child 13 years or young and holy shit I want to vomit now.
File all this under: WTF Baylor?! So, Baylor has their first road game on the road against Rice. Art Briles shows up. Shawn Oakman, indicted for sexual assault in July, was in the damn locker room. Jim Grobe, new head coach, tried to play clueless about the later and then got pissy at the media for using a direct quote. Gold stars all around, Baylor. Penn State is starting to become jealous.
I guess Rice felt left out of the dumb. For a school that is supposedly full of smart kids, their band sure had a hard time finding a balance between scathing satire and crossing about twenty or so lines with their performance at halftime.
In happier news, Oregon's duck mascot remains the best. God bless, Puddles. This uniform in his glorious honor is the best thing that Oregon has ever worn and will ever wear. Thankfully, great Puddles things didn't stop there as he found a way to mic drop the Tennessee and Florida war of words.
In even happier news, Southern Cal is a full-blown tire fire. A homesick kid wanting to transfer somehow turned into a rumor that he decked Clay Helton and got kicked off the team. There's loads of other rumors floating around that don't really deserve the link, but do bask in the warm glow of the fire something out of Southern Cal.
Addendum! As Shane mentioned, here's grown men dressing knights beating the shit out of each other in a boxing ring. And, as Eddie mentioned, here's Leonard Fournette murdering someone via stiff arm:
https://vine.co/v/5nuzuELKq1A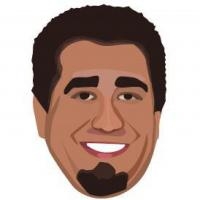 Latest posts by Ryan Ritter
(see all)