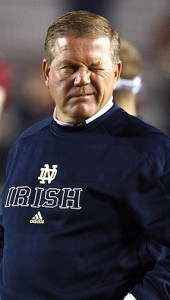 So, halfway through January, how are your New Year's resolutions holding up?  Personally, I like resolutions that are easy to keep (e.g., continue with my commitment to procrastinating with everything in life) or just unachieveable/undesirable (e.g., run a marathon).  
What about our beloved Irish?  What is going on in the mind of Brian Kelly – a few weeks removed from the Phoenix-Battle-Fiesta-Frog Bowl and near the finish line for signing day 2016?  The loss to Ohio State left many with a sour taste in the mouth. Thoughts turned to what changes BK and Co. need to make heading into the long offseason of 2016.  
So what is the history of changes/tweaks that Coach Kelly has made, all in the name of improving our team's chances, year over year?  I've taken a high level (read: lazy) look back and have made a list of my favorite adjustments/changes implemented by Kelly throughout the last five seasons.  None of these are grounded in fact, some of which can only be attributed to comments Kelly has made in public, few of which can be evidenced by on-field results, and the majority of which are from my fanboy fantasies and conspiracy theories:
2010/2011 – Kelly docks the riverboat and sets aside his gambling ways.  Molnar and Warriner move on to other opportunities, allowing Kelly to move Chaz Martin closer to the offensive side of the ball and bring in H. Hiestand (unheralded at the time).
2012 – Close wins, fake girlfriends, Eddie Lacy – OH MY. After picking ourselves off of the field in Miami, Kelly goes on the mic and states that the program needs to build depth in order to compete with the (much) bigger boys.  At the time it sounds like coach speak – but little did we know, Kelly was all-in on depth.
2013 – With the departure of Roberto Diaco, Kelly decides to bring in another former colleague from his GVSU days with Brian Van Gorder.  With this move, Kelly acknowledged that perhaps it was time to disrupt things on defense while keeping tradition of defensive coordinators with great hair (head and facial, in the case of BVG)
2014 – Better late than never, Kelly decides to throw Malik Zaire into the fray – and an emotional MZ rallies the Irish to a momentum-inducing win over Le Smiles and the LSU Tigers.  Sure the Tigers were having an off year, who cares (don't be such a jerk).  With the win – Kelly realizes that with this OL coming together thanks to the quiet work of Harold the Hiestand, he may have something in Malik Zaire and an offense that can keep defenses guessing by having an extra runner to account for.
2015 – Riding atop the crest of 2014 into 2015 – the chips were lined up.  Kelly, not to rest on his laurels brought in Mike Sanford (my fave adjustment/change) and sold the fan base on an offensive triumvirate.  In parallel – Bob Elliott was driving an RV across the country and interviewing recluse HS and college coaches still employing the triple/wishbone/veer option offense and putting together the SWAG team – ND's own IMF squad.
So what does Kelly do now heading into 2016?  Some of you reading this may balk at 2013's introduction of BVG but on paper the intention was there, Kelly wanted to #disrupt.  The most likely adjustment we should expect this offseason is with the defense under Brian Van Gorder .  It remains to be seen whether BVG is a cat that can change his stripes a bit – or if we will see more of the same in 2015 with our defense.  There will be a lot of talk about another run at the playoff in 2016 – so any changes will need to yield immediate results and Kelly won't have too much time to plant seeds for future harvests (a la his statements re: depth in 2012).  I remain optimistic given what we have seen in Kelly's moves over time and the results we have seen but 2016 will be telling, that's for sure.
Latest posts by tricerapops
(see all)