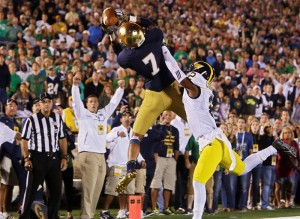 (Photo Credit: Nick Gonzales/The Elkhart Truth)
In what's become not unusual territory for Notre Dame's offseason, a substantial amount of the media and blog "ink" has been about the players yet to see a game (recruits) and those that will not be with the team come next season (transfers). Roster changes make great fodder, but it's the guys that return who matter most. With that in mind, I'll be taking some time over the next few weeks to discuss some of the most important (or interesting) players of the 2015 season. And NOPE, I'm NOT starting with Malik Zaire. Instead, let's talk about the guy who brought us so many great "Clear eyes, Fuller hearts" references during the 2014 season, junior wide receiver Will Fuller.
Why isn't more expected of Fuller?
Fuller seemed to emerge out of nowhere from the much heralded 2013 recruiting class. With recruiting class teammates like Jaylon Smith, Greg Bryant, Max Redfield, Tarean Folston, and Eddie Vanderdoes, it was easy to overlook the lightly recruited Fuller. While 247Sports had Fuller as a Composite 4-star and #37 overall at wide receiver, consider how ESPN valued Fuller: A 3-star and just the 172nd receiver in the class. Rivals liked the Pennsylvania native considerably more valuing him as the 19th best receiver and 176th overall prospect, but if your list of offers gives an indication of your perceived stock, it's safe to say the program opinions of Fuller were closer to ESPN's. Fuller's list of offers: Notre Dame, Boston College, Delaware, UMass, Old Dominion, Penn State, Rutgers, Temple, Toledo, Towson, and Villanova. Given that Fuller's calling card has been elite speed at the receiver position, ESPN's listed 40 time of 4.53 might have caused a lot of programs to miss. Their miss, was Notre Dame's gain.
Fuller dressed for all 13 games as a true freshman. The first time he registered on Notre Dame fans' radar was the Michigan State game when Fuller hauled in a 37 yard reception…the very first reception of his career. You might remember that game as Sparty's only loss of the 2013 campaign. I could have sworn all of Notre Dame's receptions that day came in the form of a pass interference (for the record: Mark D'Antonio would agree with me), but it turns out Tommy Rees also introduced folks to what Fuller was capable of. Fuller finished his freshman year with 6 receptions for 160 yards (26.7 yards per reception) and 1 touchdown. With Golson's return, the prevailing opinion coming into 2014 was Fuller's brief flashes were enough to justify measured enthusiasm.
I'll give Keith Arnold some love here who provided a bold prediction that Fuller would go for 1,000 receiving yards in his sophomore season. You can read Arnold's full profile from 2014 here. Of course, Arnold was careful to note that with DaVaris Daniels, Corey Robinson, Chris Brown, and a stable of other options around, whether Fuller could get on the field enough in 2014 to reach his bold prediction was still very much in doubt.
Fuller's Breakout:
Offseason, off field problems for Daniels as well as a hand injury to Corey Robinson cleared a path for Fuller to get some early playing time. For a guy as fast as Fuller, it should provide no surprise that he took that opportunity and ran (away) with it. Fuller led the team in receiving yards each of the first two games of the season versus Rice and Michigan. He hauled in 13 passes for 174 yards and scored 2 touchdowns. The only other receiver to top 100 yards over the first two games was Amir Carlisle. Even with Robinson's return in week 3, it was Fuller's presence on the field that rarely waivered. Robinson and Chris Brown became compliments for one another as did Amir Carlisle and C.J. Prosise. However, Fuller rarely came off the field for even a single snap. Quite simply: his explosiveness was too important to the Irish offense to spare. Even if it was on occasion just to keep the opposition honest.
Fuller's 2014 ended up being one of the great receiving seasons in Notre Dame history. Fuller scored a touchdown in 11 of 13 games. Broke 100 receiving yards 4 times, had 5 games with at least 17 yards per reception and established himself as the offense's most consistent weapon. In a season that ended in so much disappointment (until the bowl game victory), it's easy to forget that in those darkest games versus Northwestern and Lousiville, that Fuller caught 14 balls for 268 yards and 4 touchdowns.
It's also worth putting Fuller's season in perspective compared to the other great Notre Dame receivers of recent vintage. Let's see how Fuller's season stacked up in several categories for receiving seasons since 2000:
Fuller's 76 receptions ranked 6th.
Fuller's 1,094 receiving yards also ranked 6th.
Fuller's 15 receiving touchdowns tied for 1st…the other seasons: Rhema McKnight (2006), Jeff Samardzija (2005), Golden Tate (2009).
While Tate, Shark, and Michael Floyd would still have to rate higher than Fuller in on field performance, Fuller deserves to be mentioned with these guys more than he has thus far. Fuller doesn't have the unworldly athleticism and hands of Golden Tate nor does he have the size/hands combination of Shark or Floyd. However, his top end speed and ability to go the distance on any play is on par with any of those guys, and he's now done it for a full season at that same level of production.
So What to Expect:
This is a difficult question. Golson's departure and the perceived strengths of Malik Zaire could easily point to a more rush oriented offense. For everything that Fuller offers, rush blocking has not been part of his game thus far. Things can certainly change, but given Fuller's frame and comments Brian Kelly's made in passing, I would not expect to see Fuller turn into Michael Floyd or Daniel Smith in rush blocking any time soon.
On the other hand…there's this: Zaire to Fuller Blue/Gold Game (Warning: Video contains unbridled enthusiasm and hope for what could be).
Some fans may have noticed that Malik Zaire is the excitable type. The type who likes to make things happen, and well, if that's what Malik wants to do, his home run threat is Fuller. Fuller's ability to stretch the field won't just be a decoy, and as good as 2014 was, I think 2015 will be just as good. I'm not sure you can predict another 15 touchdowns, but I'll say this: I think Fuller exceeds 1,000 yards receiving again and improves his yards per reception average from 14.4 a season ago to 16+ in 2015.
Selling Fuller as just a verts guy is unfair. While that's certainly his forte, he's an improving route runner with elite skills to separate from defenders at the line. Fuller's major improvement need was his hands. He had a tendency from time to time last season to let the ball get into his body causing him to drop several shorter routes. It only manifested itself on shorter routes, and given Fuller's display of hand eye coordination on the long receptions, it should not be a major concern coming into this season.
Will Fuller's a true #1 receiver, and maybe 2015 will be the year folks around the nation really start to take notice of that fact. Oh yeah, Brian Kelly also sent this out on Sunday…
Thought while watching the Indy 500… If you think this is fast, wait until you see our offense next year. pic.twitter.com/cWCLGEbELO

— Brian Kelly (@CoachBrianKelly) May 24, 2015
Vrooooooooommmm.