So, yeah, this past week was a complete disaster by all of us. Then again, I don't think anyone really saw (save for Steve in Iowa) the disaster that Notre Dame had this past Saturday.
However, this show must go on and we must trudge through yet another week of this. As always, you can enter via this handy Google form and I will award points and bonus points accordingly next week.
Before we get to the standings in which there was very little movement, here's my favorite quotes from the week. Spoiler alert: I'm still angry about this loss and no one got bonus points.
Solid win after last week's fluster cuck. – Davie Dave
And this week we had the total clusterf*&k.
Game will be closer than everyone wants but we pull out a win at home. I would say we're going to sweat out the win but it'll be too cold for anyone to sweat. Students and snow in the stadium means a snow ball fight during the game or at halftime. – Irishyoder1
I'll give you this, the game was certainly closer than everyone wanted.
"Shake it off" played during the high (low) lights from asu. ND comes out sluggish, gives up 10 early points, probably with the help of a Golson turnover. Irish come strong in 2nd quarter and are cruising to an easy win with Zaire coming in with 8 minutes left in the game. Zaire throws a TD and a pick 6 just to keep everybody interested. This kool aid is delicious. – stogiesnbeer
Don't drink the Kool-aid. It's poison.
It's a known fact that cold weather makes balls shrink. Therefore, Everett's passes will be harder to intercept since the ball will be much smaller. Notre Dame wins big, and I will be warm and naked on my couch, reminiscing of my blackout during the BYU game. I hate snow.

Sincerely,
Spoiled degenerate southerner. – Dixie Domer
Also shrinking: our expectations, hopes, and dreams. Serious question though: did you blackout again because of this disaster? I wouldn't judge you for saying yes.
Standings
And after everyone got everything so very wrong, here's where we stand. Again, no bonus points this week.
[table "" not found /]
HLS Staff Predictions
This can't get worse…right?
[table "" not found /]
Animal Predictions
Well, my cat is absolutely on fire. That's a two game straight up winning streak (now 3-7) and his incredible run against the spread continues, rising to 7-3 which is just absurd. Do not bet against Gulliver.
This week's pick (and I think we can assuming it's against the spread by now):
And with such a small spread, I was afraid of that pick. Oh well, Go Irish, grab a few drinks. Looks like we will need 'em.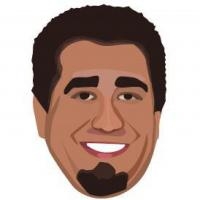 Latest posts by Ryan Ritter
(see all)