I suppose it was only a matter of time before Notre Dame's war on natural grass started claiming additional traditions.
For years, Notre Dame has held a Fantasy Camp on campus, culminating with every camper donning the blue & gold and fulfilling their ND dream by running out of the tunnel and playing in a game in the House That Rock Built on the Grass That Rock Grew™.
However, the folks at the ND Fantasy Camp, whom have been running a campaign with us for a little over a month, delivered some shocking news to me. As the field turf installation will run over the summer, the usual Fantasy Camp game simply cannot be held at Notre Dame Stadium.
Instead, campers will be forced to deal with playing this game at Soldier Field, the home of the Chicago Bears.
I am not sure how these campers are going to manage fulfilling any NFL dreams along with collegiate ones, but I hope they manage. It sounds like the fantasy camp folks are trying to blunt the pain by announcing that some guys named Ricky Waters and Brady Quinn will be there as well.
——————–
Alright, time to get serious now and kill the obvious jokes/trolling to give our sponsor some serious props.
I can only imagine the mad scramble that these folks had to go through once they got the turf installation timeline. Serious kudos to their entire staff for pulling this off. I am now even more jealous of all the campers that will take part in the camp this year and I'm not even a Bears fan.
They could have just as easily said "well, I guess we will just have to have the game at Cartier this year." Instead, they managed to find a way to up the unique experience even more and truly give this year's camp a once-in-a-lifetime feeling.
More importantly, there is still time to register for the camp and get this once-in-a-lifetime feeling for yourself! If this latest announcement just made this bucket-list event a can't miss experience this year, head on over and register via our banner or through this link. I've been told that registration will close after Easter, so get on this before time runs out!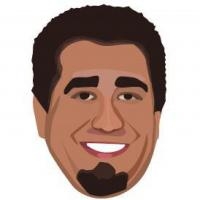 Latest posts by Ryan Ritter
(see all)