You know what I haven't done in a Roundup yet? An actual opponent preview. It's time I change that — especially since this week I've heard far too much about how the Miami offense could potentially give the Irish troubles.
All of this analysis glosses over the fact that Miami isn't that great and I'm here to fix that.
Miami's four victories have come over Boston College (1-3), Gerogia Tech (2-3), North Carolina State (3-2 — and two of those wins: Citadel and South Alabama), and Bethune-Cookman, a terrifying 3-2 FCS team. But when they faced a now 4-0 Kansas State in week two, they didn't just lose — they had the floor wiped with them 52-13.
Against their FBS opponents, Miami has given up at least 30 points. And it really shouldn't be a surprise — take a look at their defensive rankings:
[table "" not found /]
That's just unbelievably brutal. Now consider that starting defensive tackle Olsen Pierre will be out with injury leaving a hole in an already horrid front seven. That spells all kinds of trouble.
And that vaunted passing offense? Not as scary as you may think:
[table "" not found /]
So, let me get this straight — Miami has put together a couple of good games, one of which is against the worst rated passing defense that they've faced, and now they are to be feared?
Now, I understand that Notre Dame's current ranking of 19 in passing defense has been aided by playing Navy and Denard Robinson, but even ND's young secondary is a completely different animal than what Miami has faced thus far.
Now what may actually be a bit of a concern is Miami's rushing attack which has put up 200+ yard performances in two games and a 150+ performance in another. The only two sub-100 yard games were against Kansas State, ranked 14th in the nation, and against North Carolina State when they really didn't need to rush at all. However, relying on their rushing attack would be going into the heart of the Irish defense doesn't seem like a great plan for success either.
So in the end, Miami will be faced with their second real test. And after failing their first one miserably, I'm not overly scared.
Over-confident? Probably. Whatever, I'm drinking the kool-aid this week.
The Roundup
Boise State with a major win on the road. BUS! TRUCK! (Warning: Photo not for the squeamish)
Saban decided to whine. Yes, he actually called a certain style of offense "unfair". SEC! SEC!
Law & Order: SEC Initiation. Mizzou should get some style points for getting busted for weed while in a parked car on campus.
The Big XII would like to apologize to Oklahoma State. Oh wait — is that Texas on the line? Oh, nevermind then.
Charlie Weis, still trying to make friends. Not sure calling out a student newspaper is a good idea though.
Speaking of Charlie Weis, ND did it — we beat the bye week cheeseburger.
Put These Games on Your Radar
#4 LSU @ #10 Florida, 3:30pm EST, CBS – Twibby's Marque Matchup of the Week
Kansas @ #7 Kansas State, 12:oopm EST, FX – Why yes, I am going to watch this for the dumpster fire potential to start my college football day. Have fun, Weis.
#17 Oklahoma @ Texas Tech, 3:30pm, ABC/ESPN2/WatchESPN – The best defense in the Big XII takes on a future ND opponent that seems to be on the ropes. I'm greatly interested in seeing how this one plays out.
#5 Georgia @ #6 South Carolina, 7:00pm, ESPN/WatchESPN – Two top ten matchups in one day? So glad conference play is finally upon us.
#8 West Virginia @ #11 Texas, 7:00pm, FOX – Gus Johnson is going to make this scoring clinic so awesome. If you like hard-nosed defense, do not watch this — Geno Smith with end you.
Predictions
Tex: 38-14 ND
Biscuit: 24-17 ND
Bayou: Tropical Storm Te'o forms early in the First Quarter and gathers strength throughout the game, reaching Category Five dominance by mid-way through the Third Quarter. Miami's line can't withstand the combine assault of Nix, Shembo, Tuitt and Williams – look out for Te'o's first interception or fumble recovery for a touchdown and one more pick six to come out of the young secondary. The only respite Miami gets is when ND has the ball and the Irish offensive struggles only improved incrementally over the bye week. Still, FG's are better than punts and Miami's in a bad, bad place by the second half. Throw in a GAIII kickoff or punt return and you've got a glorious night in Chicago: ND 48 – Miami 9.
Twibby: ND 28, Miami 17. Video Board 1, Sebastian the Ibis 0.
Grantland-X: 38-17 Irish
The Beer
Fall is upon us and the Irish will be wearing Halloween costumes in place of uniforms. Halloween means jack-o-lanterns and jack-o-lanterns mean pumpkins and pumpkins mean delicious pumpkin ale.
I'll be honest, I'm not overly well versed in the many pumpkins ales available out there. I didn't even have my first one until a couple years ago at the Old Fashioned out in Madison, Wisconsin. I have yet to have another one as great as that one on tap.
So I leave it to you, the Loyal Readers to help lead me to the pumpkin ale promised land for this weekend. Leave me your suggestions below.
Bonus!
There's no way that I'd be able to leave Miami week without posting this: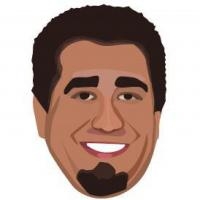 Latest posts by Ryan Ritter
(see all)