This weekend, nine Irish took to the podia, weight benches, and drill spaces to "[. . .] jump, and run across the floor, and perform many other feats, exhibiting [their] activity and condition." Each of them, and close to three hundred other ex-college players, are participating in this century's equivalent of the slave auction. Sure, they're there voluntarily, and they're chasing payouts in the millions-of-dollars. But they're still there to perform, or in the case of Teddy Bridgewater, not, and to rely on track speed and tape to fetch the highest price. They are there to be bought and traded-for and to take to the field before the screaming, heaving throngs, at the literal risk of life and limb.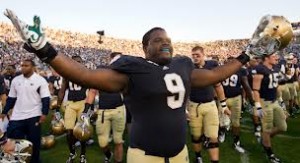 For George Atkinson, Bennett Jackson, Prince Shembo, T.J. Jones, Troy Niklas, Louis Nix, III, Chris Watt, Zack Martin, and Stephon Tuitt, the NFL Combine, which runs from this past Saturday through Tuesday, is their first opportunity to address their future employers' questions about their bodies and minds. Prince Shembo addressed, publicly, his role in Lizzy Seeburg's suicide. Big Lou spoke of his repaired knee and his disappearing stomach, proclaiming that he felt "sexier."
The Combine is organized by position. Tight Ends, Offensive Linemen and Special Teams players got us started on Saturday. Sunday saw QB's, Running Backs, and Wide Receivers go. Monday will see D-Linemen and Linebackers get their turn. Defensive Backs finish the show on Tuesday. The players will go through "workout drills," e.g. the 40 yard dash or bench press, and "position drills," such as the "off-tackle reaction drill." Click here and Mike Mayock will explain everything to you, or you can read it for yourself. If you're a stat junkie, the NFL's Combine page will keep you dateless for many weekends to come.
So how did our boys fare thus far? I'd say pretty well. Two Irish, T.J. Jones and GAIII, are listed as Top Performers as of Sunday evening, with each turning in a brisk 4.48 in the 40. GAIII jumped 38″ in the vertical. T.J. cranked out the 60 yard shuttle in 11.45 seconds. According to Eric Hansen (@hansenNDInsider), five of the six Irish to have completed the bench press "exceeded the 5-year average position group." Looks like Coach Longo's work is paying dividends, as Tuitt, for example, put 225 pounds up 31 times while South Carolina's Jadeveon Clowney only managed 21 reps. To put this in perspective, I was able to put 31 pounds up 225 times over the course of the weekend.
MONDAY UPDATE: According to sources, e.g. the aforementioned Eric Hansen, Stephon Tuitt will not compete today due to a Jones fracture in his left foot. He will undergo surgery and expects a complete recovery. Whether he will put together a modified "pro day" at ND or elsewhere before or after that is anyone's guess. Also, ICYMI, Clowney DESTROYED the 40 today, running it in 4.47. That's the fastest time EVER for someone weighing more than 260, which he does. In related news, he'll be starring in Jurrasic Park III: T-Rex Ain't Nuthin' out this summer.
The League's analysis of the Irish hopefuls is pretty accurate, if tough. To wit, GAIII is described as having "underachiever traits." Big Lou "spends too much time on the ground." Chris Watt "has a desirable temperament for the position and is a projectable, low-risk prospect." Troy Niklas "boasts an intriguing combination of size, athleticism, receiving ability and blocking ability to develop into a bona fide, balanced, No. 1 tight end." T.J. Jones is "smooth-moving." Tuitt "can play with more violence." Zack Martin is "[o]ne of the cleanest prospects in this year's draft." Shembo is a "see-and-go reactor" but also "highly competitive."
Big stories from the weekend that don't involve Notre Dame include Johnny Football's fast forty time (4.68), Tajh Boyd dissing Teddy Bridgewater, and Cyrus Kouandjio auditioning himself right out of the first round.
So, in all, it was a solid performance by the Irish. Good luck, guys, and we'll have a complete wrap when it's all done.
Have a great week, everybody. Go Irish.
Latest posts by Bayou Irish
(see all)