Since every Catholic school in the country has been in recess this week, our little corner of the world has been inundated with prospective students and high school tour groups.  It only makes sense, because every little Catholic girl and boy dreams of one day attending the nation's premier Catholic University…if the Jesuits don't eat them first.  We are also hosting those young men and women who have been admitted to Notre Dame and are spending an overnight visit to get a feel for the place.  Let me remind our student-hosts: not only do we count the prospects before we put them out, but we also expect you to return them in the same condition that we gave them to you.  I don't know who trains the tour guides I see walking backwards in front of all these groups, but I could certainly give them all a run for their money when it comes to revealing the "true Notre Dame."  Cook's tour – hell heck, I could give them the Founder's tour.  Here's just a taste the profound insights I could share.
You will see two tranquil, blue, spring-fed lakes.  I only saw one when I got here – hence the name.
You will see many fine and majestic edifices, historic landmarks, and iconic structures.  I built all the most famous and beautiful ones.  The ugly ones we blame on committees.  Stepan Center we blame on the Beastmaster.
You will see sun and blue sky…today, half of the Spring, all Summer, and most of the Fall.  Eventually, you will see a thick grey permacloud that moves in to mark the official period of mourning when the football season ends.  And, no, it doesn't leave for good until after we celebrate the Resurrection – with both Easter and the Blue and Gold Game.
You will see lovely blossoms on our trees and green shoots coming out of the ground – because we ordered them to.  Our flora and fauna have taken vows of obedience.  The flowers bloom when told, the leaves turn colors on a strict schedule, and the squirrels can square-dance upon request.  The only exception to this rule are the atrocious maize mums in the Stadium flower boxes.  Those things refuse to die.
You will see a world-famous arena of competition, a home where Victory dwells.  You will see Notre Dame Stadium…it's stuck inside that outer shell.
You will smell a horrid odor drifting  from the north.  Some people will tell you that is ethanol.  It's actually the stench of failure wafting down from Ann Arbor.
You won't see any jock dorms.  There are outstanding athletes living in each and every hall on campus.  And some of them even play varsity sports.
You will see tradition.  No one can define it, but everyone can point to it.  And it's everywhere.
You will see bagpipes.  Plug your ears if you're too close.
You will see Blue, Gold, Green, and Plaid.  Soon, that's all you will see when you look in your wardrobe.
You will see two dining halls.  One's not bad, the other is where food poisoning lives.  You'll figure out which is which.
You will see Grace.  It's a tower.  You will also experience Grace.  It's a gift of God.
You won't see my farm.  Sure it was smelly and messy, but it provided fresh produce, eggs, and meat – none of which you will find at any of those novelty food stalls in the student center.
You won't see my brick-making factory.  A little unsightly, but it provided building materials and start-up capital before we invented the Development Office.  It also gave the lads a good, hard workout.  Now, to stay in shape, they have to play with heavy weights and use something called an "elliptical machine" which makes them look rather ridiculous.
You will see chapels – lots of them.  In every residence hall and classroom building.  But you won't see God.  You will only know Him by His glorious miracles, like the last football season or…well…this whole place.
Boys, you won't see girls after midnight on weekdays and 2:00 on weekends.  Girls, you won't see boys after midnight on weekdays and 2:00 on weekends.
You won't see any open liquor.  That's what red plastic cups and gold chalices are for.
You will see men's dorms and women's dorms.  You will not see coed dorms because those are dens of iniquity.
You will see one pair of dorms that are connected, architecturally holding hands.  They are not dating – they're brothers.  And they hate each other.
You won't see any fraternities…but don't tell Alumni or Zahm.  We just let them think they're cool.
You won't see the Keenan Revue.  Thank God.
You will see Moses, Joseph, Jude, Elizabeth, the Samaritan Woman, and Bill Corby.  They all work for The BVM – just like everyone else here.
You will see The Word of Life.  You WILL NOT see Touchdown Jesus.
You will see a place called LaFortune.  It is a combination of playpen, bazaar, and rebellion containment device.  I can't explain it further.
You won't see laziness or sloth.  As much as students like to brag about how little they do, it is an act.  Everyone worked very hard to get here, and will work even harder before they get out.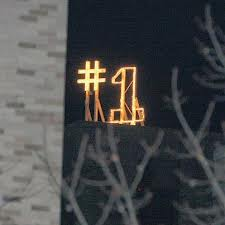 You will see nostalgia.  They're called alumni.  You will also see grief.  They're called soon-to-graduate Seniors.
You will see the #1 high in the sky, because we're always #1 in something.  Football, fencing, business school — #1 in The Lord's heart.
You will see the Grotto.  Try to see it as often as you can.  There's nothing a little visit can't help.
You will see trophies, plaques, and banners.  Many, many, many.  If there's one thing we don't do well here, it's mediocrity.
You will see struggle, effort, celebration, excitement, competition, joy, friendship, tears, disagreement, mischief, loyalty, affection, and love.  Because above all, at Notre Dame, you will see a family.
EFS CSC