Let me extend a hearty welcome to the Irish Mob!  Admittedly, I am not in the habit of welcoming mobs, since I usually associate the word with the Paris Mob and that brings to mind the Reign of Terror.  Not that I have any problem with our opponents suffering a four-year-long reign of terror as a result of our Irish Mob; but perhaps we could have chosen a more ethnically appropriate epithet for these lads – say, the Hooligan Crew.  Since our own nickname is a rehabilitated slur, why not set to work making the modern notion of football hooliganism into something more honorable and less…mob-like.
Professor Kelly will have many things to teach you once you arrive here in beautiful Notre Dame, Indiana.  I call him Professor Kelly because, at heart, he is a teacher, and you will learn much from him and his fellow coach-instructors.  In the meantime, permit me to do my own small part in preparing you for your glorious arrival in la terre au bord Du Lac.
1. Graduate from high school and don't dirty your hands with any foolish disciplinary infractions.  The first task you only have accomplish once; the second will be a continuing obligation while you're here.  Some of your fellow mobsters have already achieved this and are with us even now.  But if you can't do just these two little things in the next couple of months, Notre Dame really will be like Paradise for you – something you will never see in this life.
2. Be afraid to fail.  You have 126-years-worth of very big shoes to fill, with the most recent being some of the most prodigious.  You are about to join a team that won each of its regular season games last year.  No other group of athletes in the country (that weren't sitting in the national naughty corner for systematic cheating) can boast of such an achievement at this, the very highest level.  Not even that Southern cult-vehicle before which the Irish fell.  So failure, or anything less than excellence and your personal best will not be acceptable.  And that is a Notre Dame tradition that I myself started.  You see, if at any point after November of 1842, I had failed, this place would be a typhoid-ridden swamp surrounding a graveyard, or a charred ruin marked by a sad commemorative plaque.  Never give up, never yield, never stop believing.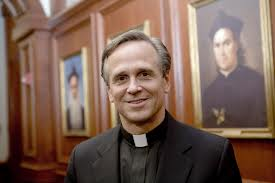 3. Get to know two sets of very important initials: ND and CSC.  Respond to the first like a bull to a red cape.  Respond to the second with a profound bow.  Everything you own or use from here on out will bear the noble cypher of the interlocking ND – your clothing down to your skivvies, the food you eat from the waffles to the tray that bears them, and the oblong ball you either handle or protect.  This symbol should be symbolically branded on your heart.  Some of you may choose to ink it upon your bodies.  But don't go too far with the tattoos.  You are neither sailors nor Samoan warriors – we have both, and both manage to handle body art with taste and decorum.  As for CSC, any man who bears those initials beside his name has many powers.  Respect him.  He will be your teacher, your rector, your mentor, or your guide.  A couple of them can throw you out of this University so fast it would make your head spin…figuratively.  But all of them can forgive your sins…literally.
4. Be prepared for a lot of intercourse.  With your professors, you classmates, the other lads living in the hall with you, your teammates, your coaches, and even with journalists and reporters.  The exchange of ideas is the fuel that fires the University.  Your learning will be constant and will occur with every discussion you have with every person you meet.  And be prepared for this to be the only use of the word "intercourse" that you will know for the next four years.
5. Get familiar with that structure we call a Library.  Across the millennia and around the world, libraries have been repositories of the intelligence of civilizations.  At Notre Dame, our Library is one of three landmarks you can see from anywhere on campus.  It is where you will research and where you will study.  Sometimes it is where you will sleep, and occasionally it becomes a 13-story pub (or so I'm told).  At all times, it is an image of The Lord who beckons you to the Library with open arms.  The Library is at the opposite end of the lawn from the Stadium, but they are not opposed.  They are the two foundation stones of your success here at Notre Dame.  That is your challenge…and the other Challenge requires one more beer than a 12-pack (or so I'm told).
6. Don't bother getting to know your hometown Alumni club.  They already know you.  Notre Dame Alumni are like the Three Wise Men – they know who you are and where to find you as though guided by a divine sign in the sky.  Just make very sure they never bring you gifts.  You lads come from coast to coast.  But believe me, you are never more than a few short miles from an Alumnus who will do anything for you.  And that goes for now, for the next four years, and forever and ever.  Amen.  Alleluia.
7. Stop cutting your hair and shaving your beard.  Professor Kelly doesn't seem to mind the hirsute woodsman look, and I enthusiastically endorse it.  My patriarchal visage graces many a location across our campus.  You will see that I enjoy flowing locks and a very full beard.  Like Moses.  And like Moses, I have led you to the Promised Land.
8. Finally, start praying.  That's not meant to be an ominous warning.  That's just what we do a lot of here – praying.  I don't really care how you do it.  With hands held high, or on your knees; in a church or a chapel or a field; with a book or a candle.  Your success will depend on your ability to ask for strength and give thanks for blessings.  And in that regard, let me introduce you to the primary administrator of all our prayer requests and blessing distributions.  One more set of initials, three simple letters, but the most important of your next four years here: BVM.
EFS CSC